2010 Person of the Year: Mark Zuckerberg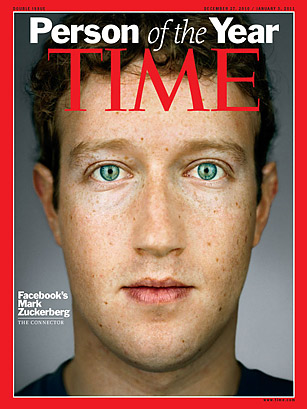 Time magazine has offically named named Mark Zuckerberg, Facebook co-founder and CEO, Person of the Year for 2010.
Mark Zuckerberg's accomplishments have been far and many, with Facebook becoming the biggest social network and one of the hottest Internet companies, with the recent surge past 500 million users. He has also been named one of the world's youngest billionaires, and recently he pledged to give the majority of his wealth to charity.
Zuckerberg will join a slew of Presidents who have received this award including Barack Obama and Bill Clinton. Not just governmental officals have graced this honor, other tech revolutionaries have graced Time's cover including Amazon founder Jeff Bezos and Microsoft co-founder Bill Gates.
Though it is a great accomplishment for Mark Zuckerberg to be named Person of the Year, not everyone agrees with the choice. WikiLeaks founder Julian Assange was also a very likely candidate for this awar, many commenters on the voting poll seem to believe that his accomplishments are far more important that Mark Zuckerberg's.
What do you think? Was Assange robbed of the title?