2011 MacBook Pro Specs and Thunderbolt Port [Confirmed]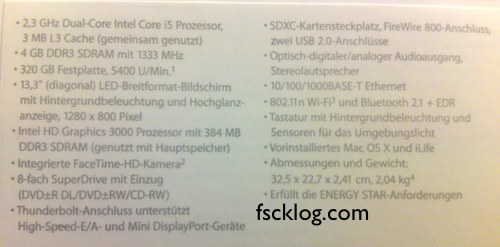 The internet rumor site Fscklog has posted some photos of what they believe to be the new MacBook Pros that are coming out soon.
Some of the specs include:
Core i5 two cores at 2.3 GHz 3 MB cache
4 GB of DDR3 1333 MHz
Hard Drive 320 GB 5400 rpm
Screen 13.33 "glossy 1280×800
Intel Graphics GPU HD 3000 with 384MB of RAM shared with main memory
Camera HD FaceTime
Superdrive 8x
Thunderbolt yet compatible with the I / O devices and high-speed MiniDisplayport
SDXC Card slot, Firewire 800 and two USB 2.0
Digital Audio Output
Integrated Ethernet
Backlit keyboard
Size and weight 32.5 x22, 7×2, 41 cm, 2.04 kg
Additionally the site Mac4Ever has posted a partial picture on the new Thunderbolt port that is said to be a high-speed MiniDisplayport that can also power I/O devices.

All images have been confirmed legitimate and is expected to be on the higher end models as well when Apple releases them.