Apple Releases Developer Preview of Mac OS X Lion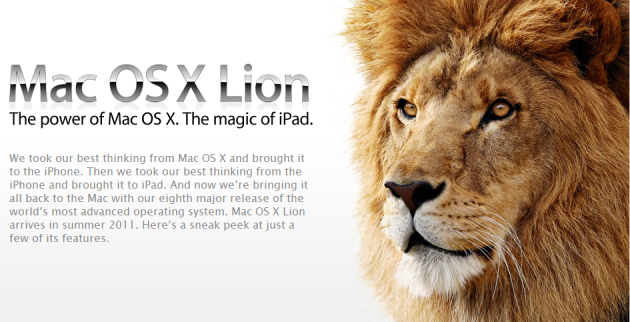 Apple today has released a developer preview of Mac OS X Lion. Apple is taking from of the ideas from the iPad and bringing them over to the Mac for the eighth major release of the Mac OS X operating system.
Features include Mission Control, a all-in-one dashboard to view everything running on your Mac; Launchpad; a unified dashboard for all your Mac Apps; and new Multi-Touch gestures. Along with this Lion release Apple has natively added the Mac App Store for users to quickly find all their favorite apps.
The Lion developer preview is available to Mac Developer Program members through the Mac App Store starting today, with a final release due to ship this summer.
"The iPad has inspired a new generation of innovative features in Lion," said Philip Schiller, Apple's senior vice president of Worldwide Product Marketing. "Developers are going to love Mission Control and Launchpad, and can now start adding great new Lion features like full screen, gestures, Versions and Auto Save to their own apps."
Mission Control is a unified panel for Exposé, Dashboard, Spaces and full screen apps to give you an overall view of every app and window running on your Mac. With multi-touch gestures you can swipe and your desktop zooms out to display all of your windows grouped by app. thumbnails of all th full screen apps will appear as well on the dashboard, this in-turn will drastically reduce the number of clicks to navigate around the Mac interface.
With the integration of Launchpad users will have an easier way to launch any app. In a single click Launchpad will display all your Mac apps in a full screen layout where, just like the iPad, you can organize apps over many pages and launch with a single click.
Apple really took a couple of pointers and have integrated multi-touch gestures and smooth animations to give your Mac the feeling of a iPad with full screen apps and easy ways to navigate and one-click launch applications.
New gestures include pinching your fingers to zoom in on a web page or image, swiping left or right to turn a page or switch between full screen apps and swiping up to enter Mission Control.
With the introduction of Lion is now fully includes the Mac App Store, where you can find apps, buy them with your iTunes account and install them in one step. The apps purchased from the Mac App Store are installed directly into Launchpad.
Additional features in Lion include:
A new version of Mail that groups related messages a more powerful search and support for Microsoft Exchange 2010.
AirDrop, copy files wirelessly from one Mac to another.
Versions, saves successive versions of your document as you create it, and gives you an easy way to browse, edit and even revert to previous versions;
Resume, which conveniently brings your apps back exactly how you left them when you restart your Mac or quit and relaunch an app;
Auto Save, which automatically saves your documents as you work;
New FileVault, that provides high performance full disk encryption for local and external drives, and the ability to wipe data from your Mac instantaneously; and
Mac OS X Lion Server, which makes setting up a server easier