Facebook Releases A New Version Of Questions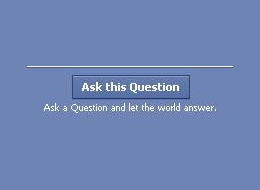 After nearly a year of beta testing Facebook has finally released a new version of its questions system.
Facebook has shifted its focus off of public inquiries, a service already dominated by Quora and changed its focus to soliciting recommendations from your Facebook friends.
Adrian Graham, a project manager for Questions had this to say:
There are many places you can go on the internet to ask questions of people who you don't know, but there are very few places you can go to get responses from your friends. We thought that this is where we should focus.
Current testers of Questions will receive the updated version first. When current testers begin to ask questions their friends will be pushed the update as well. For those who don't like waiting for a friend to ask on their profile to use the new feature can download it here. For the non-english users of Facebook this feature is not yet available for them.
When asking a question, users have an option to create a poll with restricted answers or one that allows anybody to add answers. For questions that don't need the short and concise answer the comment section the comment box becomes the answering section.
When first launched, Questions were only to be answered on a page dedicated to the section. With this new launch questions can be answered and commented on from within your newsfeeds or profile pages. When a friend answers or comments on a question it will appear on their profile page.
I've been playing around with this new feature and I love this new release of Facebook's system. Their focus is on the ball and create a unique way to interact with your Facebook friends.