Google Cr-48 Review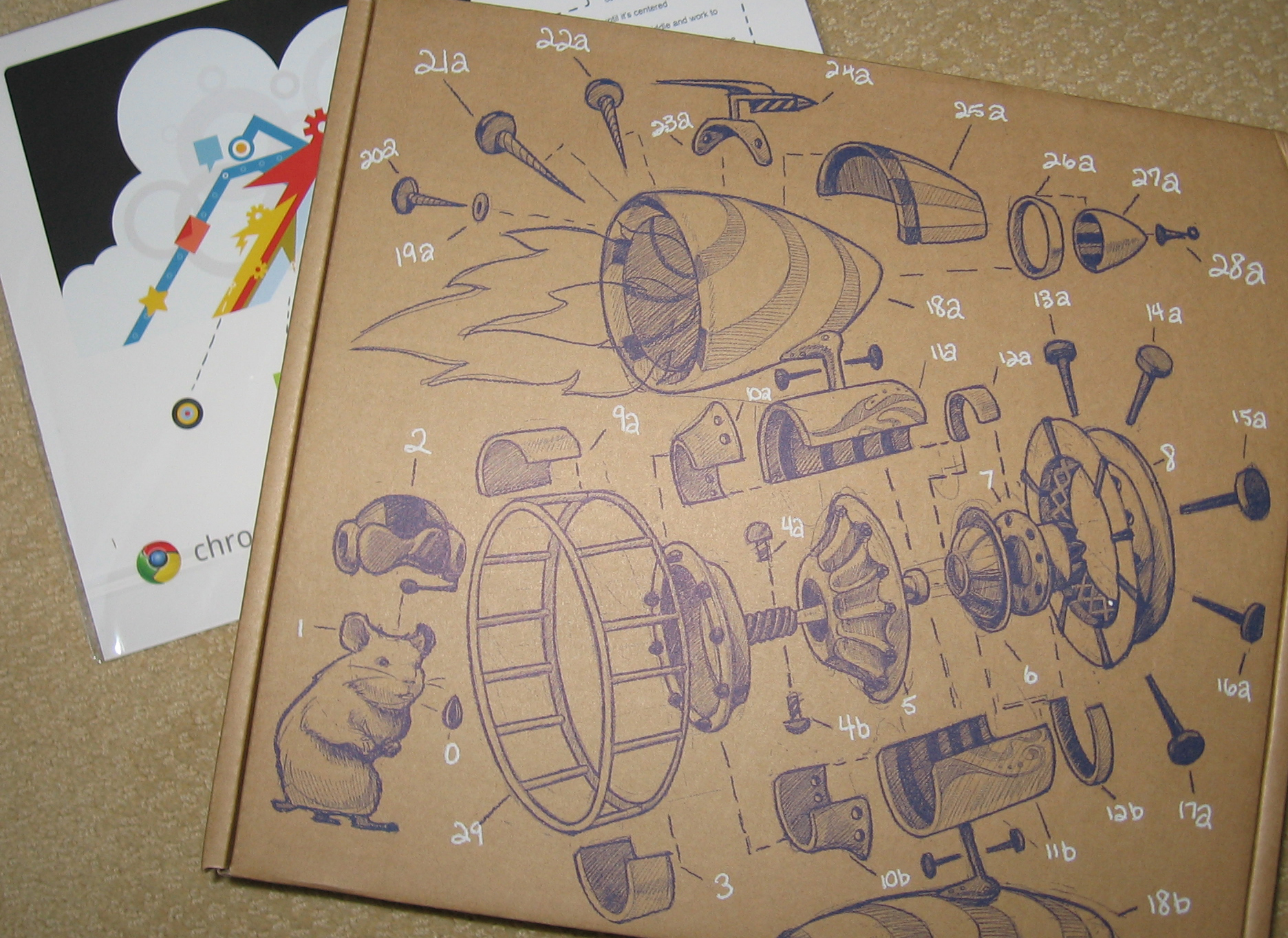 LogicLounge was able to get their hand on a Cr-48 netbook from Google.
The Cr-48 (named after the chemistry element Chromium) is a simple, yet full featured netbook. It has been said that it will never be sold commercially, but it offer a detailed preview of the Google Chrome OS system.

The Google Cr-48 runs on a 1.6 Ghz Intel Atom Processor, has 2 GB of ram, has a 12.1 inch LED matte screen (resolution 1280×800), has a 16gb internal storage, and runs Google's Chrome OS Beta. There is also an internal Bluetooth module, 802.11 a/b/g/n wireless, Verizon CDMA 3G receiver, built-in webcam and mic, VGA port, headphone output,a  USB slot, and a SD card slot, though most ports are either limited in functionality or disabled currently.
The keyboard is an island style keyboard with the function keys replaced to simple buttons people will know what they are. They have been replaced from the F1-F12 keys to back, forward, refresh full screen, switch windows, brightness, volume and power. The keyboard also removed the caps lock key and replaced it with the search key.
The touchpad is multi-touch and the mouse click is on the touchpad (like a current gen MacBook).
The webcam can get a decent image, though it is not HD quality. It can capture an image that is as quality as a camera on a feature phone. The mic is just a small hole next to the webcam. It is good for taking profile images for users on the netbook and simple video calling.
The USB currently works but only limited functionality currently. The USB currently only allows the use of only simple input devices like a keyboard and a mouse (no USB flash drives support yet). Other features like a VGA port, bluetooth, and SD card slot are currently disabled for the time being.
This does not apply to the developer mode.

The Cr-48 OS is simply the Chrome browser.When you boot into the Chrome OS, all you see is a browser with a list of apps. It starts out with a few game extensions, Getting Started, Gmail, Google Maps, Google Talk, Youtube and web store. Most apps are not stored on the netbook, but online. The Chrome OS is customizable with more apps, extensions, and theme from the Google Web Store.

Upon opening the Google netbook, the laptop instantly turns on with a boot time of less than 20 seconds. Upon the first time setting it up, it prompts you to agree to the TOS, connect to a wifi/3g internet, set up an account on the netbook (it has to be a Google account ending with @gmail.com) and setting a profile image with its built-in webcam (tip: if you want to put another profile image on the account, just take an image of something at first, and then you can change the image in picnik. Skipping it will result in not having a profile image or being able to change it.). After setting it up, it's just acts like a browser.

Currently the Chrome OS is lacking in many things. It is sluggish with flash performance. There is no support for creating a Google account from the login screen. Another thing is that it does not have support for offline mode on its services (gmail, google docs, etc). You cannot set a window into a window mode and set two windows next to each other, or even minimize a window. There is no support for external storage. The 3g internet (from verizon) is good, though some real-time communication service (like IRC) will not work if you're moving on the road.

Overall, it is a really good netbook with lots of potential, though it is not ready for primetime yet. It right now looks like it is good for most users just using it for the internet, but does not have all the functionality for more experienced users.