How to Get Windows 7 Gadgets in Windows 8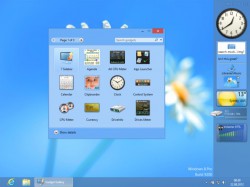 Bummed out that Microsoft is not renewing Windows Gadgets in Windows 8? There is an alternative that will help you get those gadgets back.
8GadgetPack, developed by an enthusiast named Helmut Buhler, is a free piece of software that you can install on your Windows and get those gadgets back. Right now, 8GadgetPack supports six main languages on which desktop gadgets used to work English, French, German, Japanese, Chinese, and Russian; it will additionally fall back to English if there is an unsupported language.
Based on our tests, 8GadgetPack works well with desktop gadgets that worked in Windows 7 or Windows 8. Out of the couple of gadgets we tested with the program, all of the gadgets worked with the program.
Though it is a close implementation of Microsoft Windows Gadgets, there are some downsides compared to the full-fledged Windows Gadgets. The first downside is that gadgets can only be placed on the left or right of the screen, much like Windows Vista. The second downside is that once you completely fill the sidebar, you must remove existing gadgets to add another. Even though it is not exactly the same as Microsoft's Widgets for Windows Vista and Windows 7, it is a nice close implementation of the tool considering that it is mostly a hack put together by a passionate programmer and not an official tool from Microsoft.
Even though most users does not care about Windows Gadgets, there are a couple that still attached to the feature. If you are one of those users, you can get it from the 8GadgetPack's Website