Macworld 2011 Recap


Last week, LogicLounge was on location at MacWorld 2011 at the Moscone Center West in San Francisco.
MacWorld 2011 was filled with many items to see. From business users to the home users, MacWorld is filled with many various products that everyone will like. Manufacturers like HP, Smart Technologies, Nuance (Dragon Dictation), Blue Microphone, ESET, and many more were there to there to show off their products. MacWorld was also filled with many speakers from various professions of tech. Speakers like iFixit, GeekBeat, MacTribe, and many more were there to speak at Macworld. There were also area mainly dedicated for musicians speakers to teach how to do various things with music and/or perform.
Products
T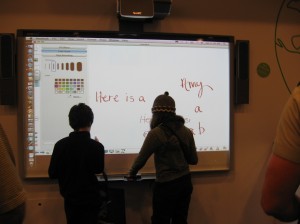 here were many products on the show floor. Some of the products were the Smart Technologies interactive white board projector, HP with many printers (from consumer grade to a giant industrial 10+ ft. color printer), ESET and their antivirus for mac, Blue Microphone and their high quality mic, Monster and various headphone and iPod accessories, HyperJuice and their portable accessories, ZooGue and their iPad Case. There were also many small indie Mac programs, and iOS apps being shown off at MacWorld catering various people of different likes.
Shows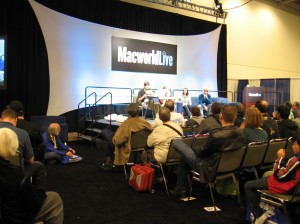 Macworld was also filled with many speakers talking various subjects on stage (and online live or on demand). There were speakers talking about repairing electronics, creating entertainment, designing products, podcasting, and many more subjects. There were also show events like Stump the Mac IT Guy, MacWorld Best of Show, and Meet the Photographers on stage. Not only there were just speakers and events on the stage, there were also products spotlights (products like Blue Microphone, Propellerhead software, Sonoma Fireworks) on the secondary stage.
Swag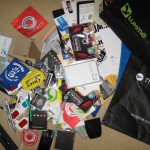 Most of the booth gave some small swag like pens and flashlights, while some went all out with giving out swag. Some booths like ZooGue had a small tee off game where if you got a hole in one, they gave you one of their iPad case for free. Another booth was Wrapsol where they just gave out their protective sticker covers for iPod Touch, iPhone, iPad, and Macbook for people to try. All I can say is that this year the swag was actually better than last years Macworld.