Paypal Sucks [OPINION] [Updated]


The number of Paypal woes in the past few year has grown being showcased by high profile internet personalities such as Cali Lewis and Chris Pirillo. Paypal for many is a love hate relationship because of the ease it brings to the payment platform and the silly policies they have put into place to protect users and themselves.
Once again, PayPal has struck again with overzealous silly policies, that do not make very little sense.
Cali Lewis had an issue when she used PayPal for the conference she organized with John Poz called OpenCamp. You can read their story here.
Chris Pirillo had $450 stolen from him through iTunes and PayPal gave him a hassle. You can read his story here.
All of this begins at Hobby Airport located in Houston, Texas where I was returning from business. I sit in the terminal looking for free Wifi knowing I had almost two hours till my flight took off. My options were limited in such a small airport so I went for the Hotspot feature I purchased  for my new iPhone 4S before my trip. After booting up and getting connected I noticed the speeds were less than desirable. Since I had a significant amount of  time to get work done I decided to purchase the one-time Boingo wireless in the airport for $7.95. As I proceeded to the payment screen I noticed they had PayPal as an option to pay. I was getting ready to use my business check-card but instead opted for PayPal because I had not yet set-up my VPN and did not want to enter my credit card number. My PayPal information was securely entered on my computer through a handy application called LastPass. I proceeded through the payment screens and was granted access to the full internet after little trouble from Boingo. In the next few minutes I received an email from PayPal pictured.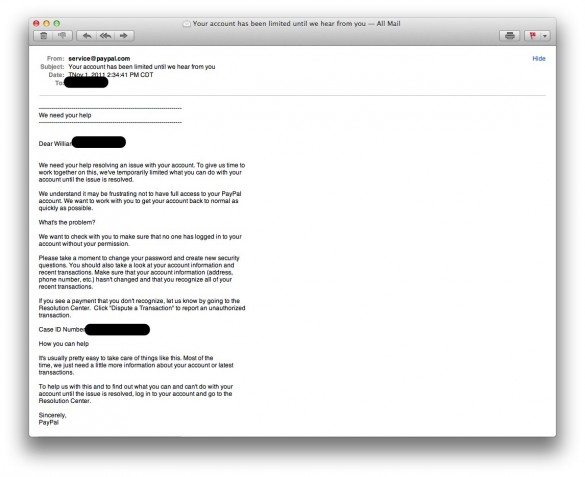 At first I thought this email was one of the many spoof emails I got from being a PayPal Member. I looked closely at the headers and the information presented in the email. I noticed the email has no outside links and was from a PayPal.com email. I looked into my PayPal account to find it was intact limited.

Typically when a credit card company detected what they determined was fraudulent activity they had me make a quick call to an automatic system and sometimes they ask for some security information over the phone. However, I didn't expect to be calling paypal but I didn't expect what was about to come.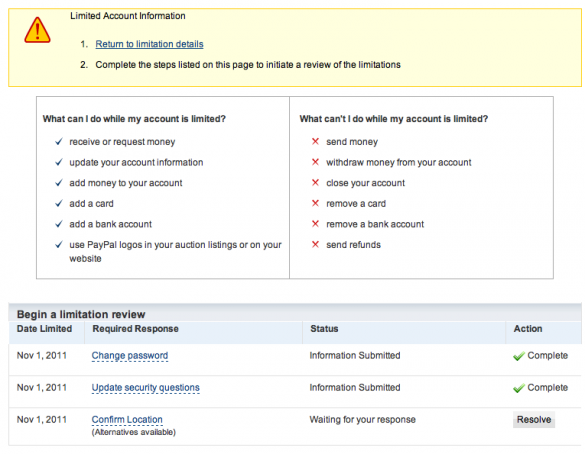 In order to resolve the security concerns PayPal account they required quite a bit of information.
FULL Bank Account information or my FULL Credit Card number on file.
I find this really odd because they knew I was an unfamiliar location. I find it a security concern in itself to be entering my FULL credit card number from the compromised location they thought I was at. Needless to say I proceeded through this first step because I had set-up a VPN to protect my privacy in area such as an airport.
This step isn't too crazy or outlandish just inconvenient
Once again, This step isn't too crazy or outlandish just inconvenient
I had no idea what this step meant at first. In the options I had a choice of a call to my registered phone number or to send a postcard to my house. I opted to have the phone call to my business line which is a Google Voice number that goes to my cell phone.
I got through all these steps rather quickly and had no issue till the phone call. Expecting the automated call to enter the pin they provided I had my cell phone ready. However, my phone only rang once and I didn't have a chance to answer. I didn't think this was a big deal as I expected them to leave the pin on my voicemail or just call back in a minute or so.
I waited a minute to see if I received a voicemail or the screen with the pin on my laptop changed. Neither of this happened so I hit the continue button to be greeted with the screen stating "Phone Verification Failed." On this screen it informed me that  I would receive a 4 digit pin in the US Mail in 7 – 9 days.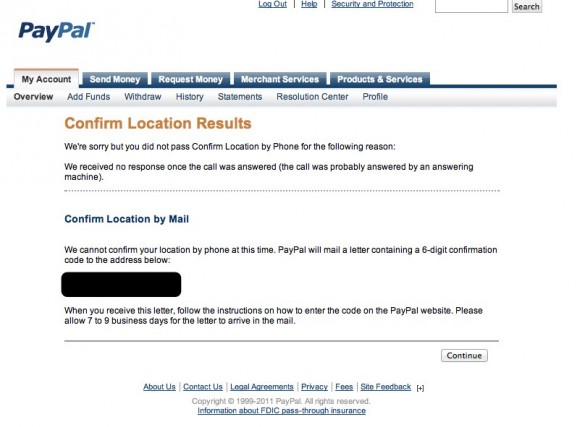 Update: Nov 7, 2011 – Paypal finally confirmed they shipped out my verification letter. 6 full days later – 5 business days later.
Update: Nov 13, 2011 – I received the letter from Paypal with the code  and the limitation has been removed.
I have many problems with how this happened and unfortunately in many instances PayPal is the only choice of payment processor. I hope that one day PayPal will realize many terrible polices they have in place for "account security" but until then please share this article and the many other Paypal horror stories that are found all over the internet.
More Paypal Horror Stories,
One of my favorite Consumer Activist Sites,