Recap: Apple Announces iPhone 5S, iPhone 5C, and iOS 7 [VIDEO]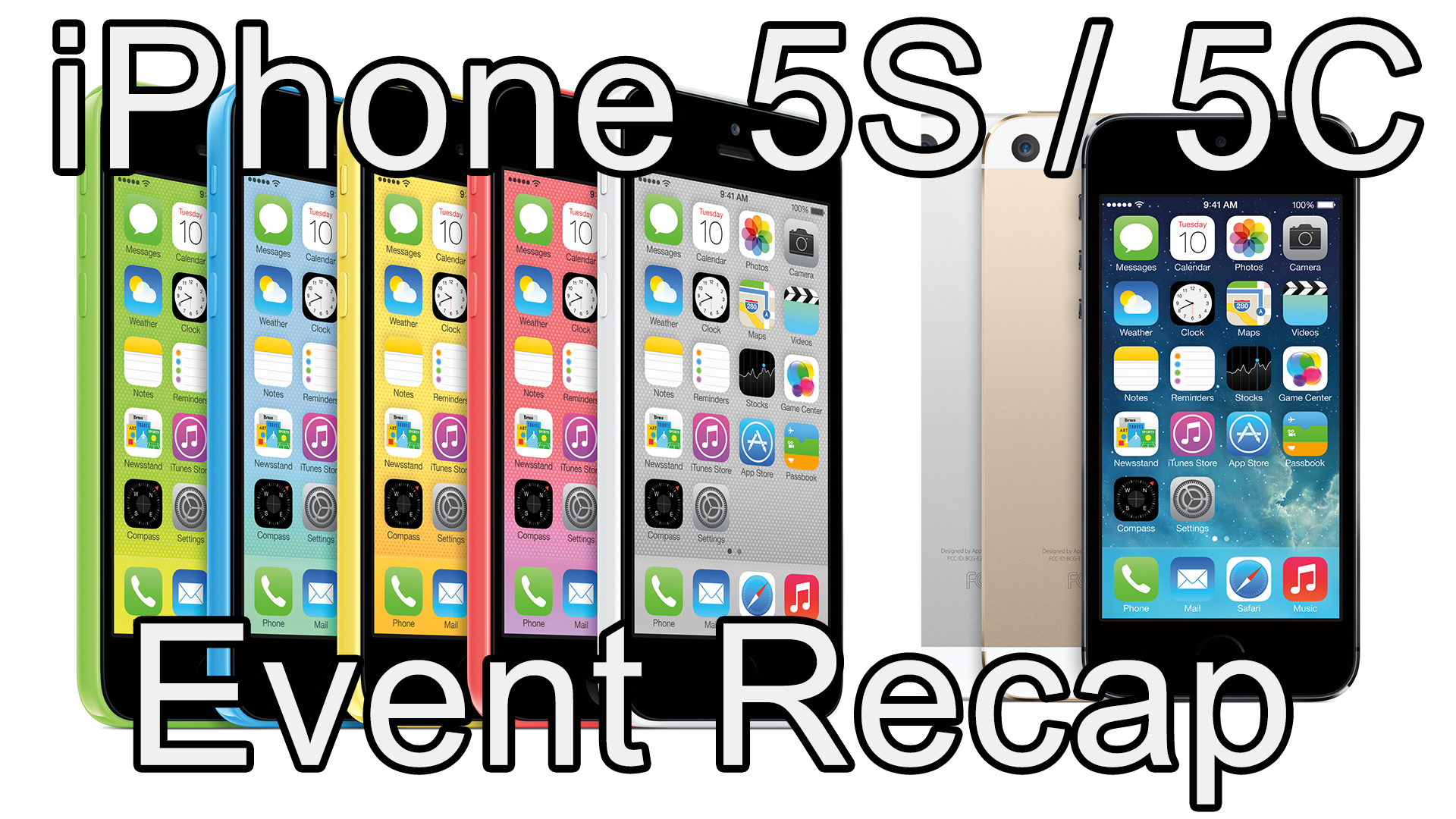 Apple kicked off the event with the discussion of the iTunes Festival in London. Tim Cook discusses concerts being live streamed to over 100 countries. Following the announcement, they showed videos of the event.
After showing videos from the iTunes festival, Tim Cook moves on to discuss about retail with a update to their Stanford, CA location, splitting it into two rooms: one for service, one for retail.
After the regular press information, Apple announced that iOS 7 will come out September 18, 2013 for iPhone 4 and later, iPad 2 and later, iPad mini, and the iPod Touch 5th gen.
After discussing about iOS, Tim Cooks goes on to discuss about iWork. He starts by discussing about the three productivity apps and iPhoto and iMovie are best designed for mobile devices and they will be free on new (did I mention, new) iOS devices. When you set up a new iOS device, you will be shown a screen to download the apps.
After discussing about iOS, Tim Cook rolls on to discuss about the iPhone. Tim announced that the iPhone 5 will have two new designs. One being the iPhone 5C and will be in green, white, blue, pink, and yellow plastic backed poly-carbonate backing and offers a "soft-felt silicon rubber" casing available for purchase. The internals much remains the same with the iPhone 5 except for a slightly larger screen, new FaceTime HD camera, larger 1.9u pixels and backside illumination, and supports more LTE bands. It will be available for $99 for 16GB, $199 for 32GB with a 2 year contract and $29 for the silicone case.
Following the announcement of the iPhone 5 [C], Tim announces the iPhone 5S. The iPhone 5S will come in gold champagne in addition to the black and white, and runs on a 64 bit Apple A7 mobile processor (featuring a reported a max of 50% more performance and includes OpenGL|ES 3.0) and a M7 processor to help with health and fitness products by calculating motion data and will work with iOS 7 with the 64 bit architecture. Currently Apple apps have been redesigned for 64 bit A7 processor. Battery life is reported to have 10 hours of 3G talk time (8 hours for web browsing), Wi-Fi browsing, LTE browsing, video, 40 hours of music talk time. The camera will have ""a new, five-element Apple-designed lens" featuring a F2.2 aperture, two flashes to choose the right color balance, image stabilization, burst mode, 28MP panorama, slo-mo fps (120fps) at 720p, and automatically adjusts the camera chooses the right image. The last feature they showed is a fingerprint sensor (Touch ID) to instantly unlock the phone, with a 500 ppi resolution, touch ID capacitive sensor, can read any orientation, and built into the home button. One thing that they note is that the fingerprint is encrypted and will not be sent to Apple's servers. The iPhone 5S will be $199 for 16GB (T-Mobile said $650 for 16GB off contract), $299 for 32GB, and $399 for 64GB with a two year contract and will offer cases for $39.
Preorders will start September 13th for iPhone 5C for will start selling in many countries September 20th, with the rest in December. Unknown about the iPhone 5S currently.
After the announcement of the new iPhones, Tim Cook brings Elvis Costello to end the announcement.