Steve Jobs Confirms iWeb Discontinuation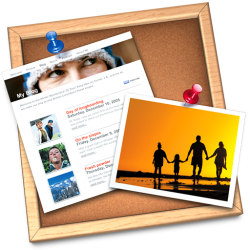 When Apple moves their MobileMe service to its new iCloud service later this fall, iWeb and the hosting features that it has won't be moving.
Someone concerned with the transition of iWeb emailed Steve Jobs himself to ask him what will happen with the service. MacRumors published the email that was sent to him and his response confirming the death of the service. While the legitimacy of the email cannot be confirmed, MacRumors says that the email headers look to confirm it as true.
The email:
Q: Dear Mr. Jobs,

Will I need to find an alternative website builder and someone to host my sites?

I have invested a lot of time and effort and the thought of re-training sucks more than mobileme ever did.

A: Yep.

Sent from my iPhone
Apple has been hesitant to update iWeb since iLife '09 and since November its .Mac homepage publisher has been offline. As web hosing becomes cheaper and the ability to publish websites becomes easier, the community that revolves around iWeb continues to dwindle smaller.
Five years ago when iWeb was released, the scene was quite different from today. Publishing platforms like WordPress were just getting started and didn't have a significant impact on the web. Services like Tumble and Posterous didn't even exist at that time either. Small businesses and individuals loved the idea of iWeb because it was an easy and affordable way to host static content, iWeb and MobileMe WAS a great tool.
However, today it is a bit different. Static web hosting no longer exists, it's all about dynamic content in an ever-changing web world. Low-cost web hosts are everywhere today and available to everyone. With that, one-click install of web publishing platforms have reduced the need for people to deal with complicated installs.
Even though the free hosing service for iWeb will be discontinued, as long as the software continues to work with the latest versions of Mac OS X, users can still publish content to a third-party service via FTP.
In the event Apple decided to stop the software from working, other solutions such as RapidWeaver are still dominating the design market for Mac.