Steve Jobs Resigns As CEO Of Apple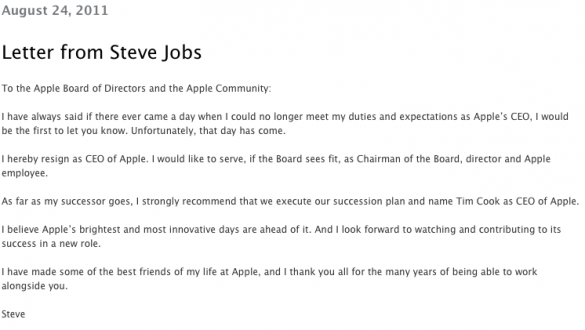 Steve Jobs has dropped a huge bombshell on the Apple community. Our beloved leader is stepping down from his role and letting Tim Cook take over as the new leader of Apple. This is a huge unexpected shock from Apple and Steve Jobs. Normally we hear about this before it happens but here we are with this bomb shell.
Apple's Board of Directors announced this today that Steve Jobs is resigning as Chief Executive Officer and the board has named Tim Cook, Apple's COO the new CEO of the massive company. Although Jobs is stepping down he will join the Board of Directors along with Cook, effective immediately.
The board had this statement to say:
Steve's extraordinary vision and leadership saved Apple and guided it to its position as the world's most innovative and valuable technology company…

Steve has made countless contributions to Apple's success, and he has attracted and inspired Apple's immensely creative employees and world class executive team. In his new role as Chairman of the Board, Steve will continue to serve Apple with his unique insights, creativity and inspiration.
We are sad to see Steve Jobs go, but because of his recent health issues and old age it might be time for him to let someone else take his spot. We should still see him at Apple press events. We don't see him not presenting the latest tech gadget from Apple.
The only thing to worry about now is the future of Apple and their stock. Lots of people say Apple's stock is so high because of the man running the show, so we'll see what happens in the coming days.
Our question for you, what do you think about Steve stepping down?