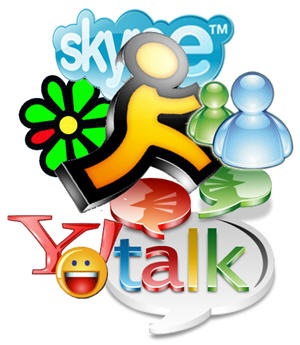 Instant messengers have become essential to daily life for anyone who spends time on the internet. It is a fast and easy way to communicate across the town or across the world. Our talented researchers have come up with a list of the top 5 messenger clients that people are using.
Digsby – free, windows
Digsby has become a very fast growing client and made the top of our list. But it is also sad to say that they are loosing ground because Digsby is slowly becoming bloatware. Having the installer bloated with ads and other crap incentives. But with all that aside Digsby is still a great client being able to support multiple networks and multiple networks. Digsby also made the top of our list for their ability to connect to many different social networks.
Adium – free, mac
Adium is a very powerful open source IM client for the Mac platform. It can connect to multiple networks such as AIM, MSN Messenger, Google Talk, Yahoo! Messenger, MySpace, and Facebook. Adium is unique because it integrated with OS X so that it can alert you of system messages and issue system notifications. Being open source Adium has lots of extras to help you customize everything.
Pidgin – free, windows/linux
Pidgin is the Adium for Windows and Linux, it has many different extras to help customize the application. It can also connect to many different IM networks. One more feature that Pidgin brings to the table is the ability to connect also to any IRC network of your choosing.
Meebo – free, web-based
Meebo is a powerful online client that allows you to connect to many different IM networks online. If your one of those people who don't like installing applications you can use this client anywhere if you are on the go or even at school. Also if you want to chat at work and get around work firewalls this application works too.
Trillian Astra – free or $25, windows
Trillian Astra has a very extensive feature list, although some of the best features are disabled after 30 days if you don't upgrade to the Pro edition. Trillian supports services like AIM, Google Talk, ICQ, and MSN Messenger, as well as Facebook, MySpace, Skype, IRC, and Twitter. While Trillian supports audio and video, it lacks features, but to our luck they make up by having their network to support full featured audio/video calls.