Amazon Cloud Player - Listen To Your Music Anywhere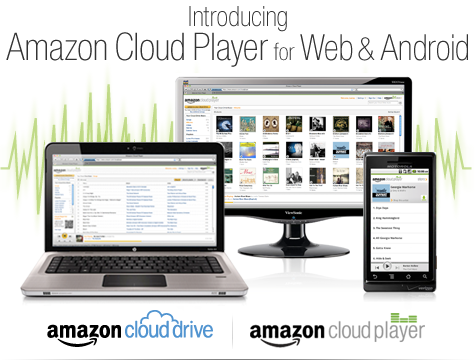 Right after Amazon releases their own appstore, they are back again to announce Amazon Cloud Player, an easy way to listen to your own music on-the-go from any device. Using the cloud users can upload up to 5GB of music and play them on the web or any Android device.
The new Amazon Cloud Player adds a new button to the purchase page for MP3s that says, "Save to Amazon Cloud Drive," as well as the ability to upload music from your hard drive to the Amazon Cloud Drive. Initially, users are given 5GB of free storage, which should be enough for hours of music to upload but if a user purchases an album on Amazon that storage is bumped up to 20GB and if a user needs more space they can pay $1 per GB per month for the additional space.
Currently the Amazon Cloud Player will come in two version: a web version and an Android app. Both players allow listeners to upload their music, organize music and create playlists. Because all of this is running on the Amazon Cloud Storage network users can access their music anywhere on any compatible computer or Android device.
The only closely related service to Amazon Cloud Drive is Grooveshark, which allows you to upload music from your computer, but Amazon has many advantages over that service. Including an MP3 store and very well-known payment system it is a more recognizable brand over any service.
Both Google and Apple have rumors about their own cloud-based players and storage, but Amazon beat them and got theirs out first. Amazon Cloud Player is in still water now, as they are the only service, but with the upcoming release of Google and Apple's products they will face some stiff competition in the future. Especially that Google rules Android and Apple controls iPhone and iTunes it will be a rocky ship for them.