Record Labels Lash Out At Amazon Cloud Player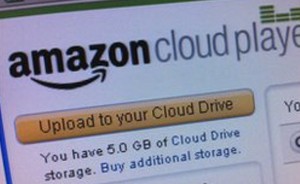 Not even 24 hours after the official release of Amazon Cloud Player they are immediately being hit by the major music companies saying that this cloud player breaks their copyright holds on the music. It seems almost as immediately as these accusations have surfaced Amazon is ready with a rebuttal.
"Cloud Player is an application that lets customers manage and play their own music. It's like any number of existing media management applications. We do not need a license to make Cloud Player available." Amazon spokesperson Cat Griffin said, it seems as the company is insisting that because users upload and listen to their own music they don't need a license. The original download licenses still apply and no new licenses are necessary, this is seemingly logical conclusion that the record industry disagrees with.
This Cloud Drive and Cloud Player service that was released yesterday offers US-based Amazon customers 5GB of free online storage to use for whatever they want. If they buy an album from Amazon MP3, they get an extra bonus of 20GB of storage for the year. All Amazon MP3 purchases are automatically synced to the user's Cloud Drive without going against their storage limit. Users can only stream their music by the Cloud Player Android or web-based app. They are only allowed to stream their music that they upload and not anybody else.
I wondered how Amazon managed to land a dead with record labels to license the music, given that Apple is trying to do the same thing and it is taking them time to work out the details. But, after a little digging it seems that Amazon hasn't made any deals with the record companies.
"The functionality of saving MP3s to Cloud Drive is the same as if a customer were to save their music to an external hard drive or even iTunes." Cat Griffin said in a statement, which is true when only one customer has access to a drive and it is not public it seems to be a valid argument.
According to the music industry, they disagree with everything Amazon is saying. With regards to Cloud Player they don't like how it operates. The licensing companies say that they are keeping their legal options open and hoping to strike a licensing deal with Amazon.
"I've never seen a company of their size make an announcement, launch a service and simultaneously say they're trying to get licenses," the anonymous exec said. It seems that Amazon was allegedly starting to address licensing issues but instead of making those agreements they put it off to the side and never came back to the issue.
EMI, Universal Music Group, and Warner Music have not made any public statement at this time. So it is unclear if Amazon secured any rights before launching. But, based on Amazon's comments, it does not seem that Amazon is currently holding any licenses with the record labels.
Amazon has seemed to call the music industry's bluff that new licenses are necessary when users stream their own music, and this defiantly won't be the last we hear of it.