American Express Launches New Payment Platform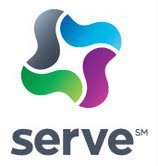 Announced today from American Express its new platform Serve, is looking to take on PayPal in the digital payment and commerce world.
Just like PayPal, Serve can make purchases and person-to-person online transactions, as well as using it wherever American Express cards are taken and via mobile devices. There are many options when funding the account, users can use debit, credit, charge card, bank account or transfers from other Serve members to make their payments.
Serve even has apps for iOS and Android and says the service will also be accessible through Facebook. Serve explains the set-up process is easy and issued a short statement on how to use it:
Consumers set up an online account at Serve.com or through a smartphone app. Funds can be added from bank accounts, debit cards, credit and charge cards, or other Serve accounts. Customers can use those accounts to send and receive money to friends, pay bills and make purchases online. Serve bridges online and offline commerce — each customer will be issued a Serve reloadable prepaid card linked to their Serve account that can be used at any merchant or ATM that accepts American Express cards.
Serve is available now to anyone in the U.S., and Serve states that it plans to launch in regions within coming year.
With Serve being new to the market they will be waving the consumer feeds for the first six months of its launch. Afterward the fees will be as follows:
Putting money into a Serve account — 2.9% plus 30 cents per load, discounted to 0% for cash, debit and ACH
ATM cash withdrawal — One free each month, then $2.00
Serve is the most expansive competitor against PayPal. By focusing on all three bases digital, mobile and point of sale, Serve is hoping to pose a threat to PayPal.
Serve made it clear that it as a company wants to bridge the barrier between cash and credit car based transactions.
The only thing holding Serve back from posing a threat to PayPal is the adoption and scale of the operation. The fact that Serve is working with all American Express merchants gives it a great start. That's one down, the next is scale, they need to work internationally and bring every corner of the markets together to use the service.
American Express is hitting the ground running and seems to be conditioned to run the extra mile.