Anyone Want An Ad Supported Amazon Kindle?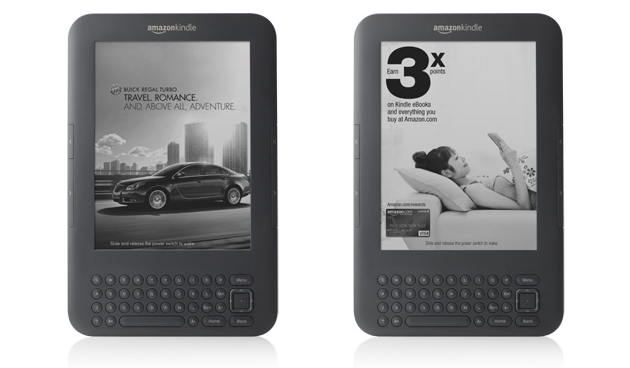 A new version of the Amazon Kindle is now available today which makes it the cheapest version of the Kindle 3 series. Coming in at a whopping $114 this Kindle is a Wi-Fi only version that show ads while navigating through the device.
This 6-inch Amazon Kindle costs $25 less than the current low end Wi-Fi model and shows off the same specs as its non-ad supported brother. If you want this cheaper version of the Amazon Kindle be prepared to view the occasional special offer and when the device is in sleep mode owners will be greeted with a screensaver ad from companies like Via, Olay, and Buick which are the first advertisers to me on this device.
In their public release Amazon wants to assure owners that the screensavers on the sleeping device will be "attractive" and not clutter the screen. Amazon is even taking a new approach with this service by giving consumers the ability to vote on the screensavers they would like to appear on their devices.
The Kindle With Special Offers is available now for pre-order in the U.S. only with an expected ship date of May 3.
Is is worth it to save $25 and get ads on a device or will consumers want to fork over the extra $25 for the ad-free version?