Flock Social Browser Shuts Down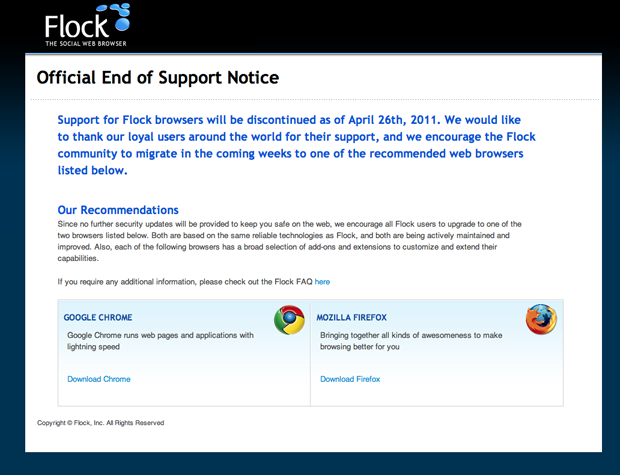 The once mighty social engaging browser that connected your social networks together has issued an official end of support notice, essentially shutting down the browser. Since April 11, 2005 when the browser was first introduced the developers brought to us a browser to change all browsers.
Flock was known as the social networking and media services browser that integrated MySpace, Facebook, YouTube, Twitter, Flickr, Blogger, Gmail, Yahoo! Mail and many other services. In January 2011, Flock was acquired by Zynga. The new owners didn't show any interest in the browser but the people behind it. So as of today, visitors to Flock will be greeted with this message:
Support for Flock browsers will be discontinued as of April 26th, 2011. We would like to thank our loyal users around the world for their support, and we encourage the Flock community to migrate in the coming weeks to one of the recommended web browsers listed below.
Although support for the browser will be discontinued, users are still freely able to use the browser. Flock does not encourage this because if any security problems arise there will be no more updates to the browser. Flock's latest update to version 2.5 added Twitter Search functionality, multi-casting of status updates to multiple services, and the introduction of instant messaging via Facebook Chat in the browser, which was only released 2 months ago.
Users still looking for a social browser can try out RockMelt, which is another social centered browser that integrates Facebook and Twitter. On their website also, Flock recommends that users move to Google Chrome or Mozilla Firefox:
Since no further security updates will be provided to keep you safe on the web, we encourage all Flock users to upgrade to one of the two browsers listed below. Both are based on the same reliable technologies as Flock, and both are being actively maintained and improved. Also, each of the following browsers has a broad selection of add-ons and extensions to customize and extend their capabilities.
It's funny that Flock failed to mention RockMelt which is their rival and competitor in the social browser world. RockMelt is based on Google Chrome and as per the recent review, is a strong browser that offers the same features as flock.
Zynga never owned Flock.com and it had nothing to do with today's shutdown.