AOL seems to be all over the social media news lately. Starting with the acquisition of TechCrunch. Today, AOL announced the acquisition of social profile service about.me.
AOL Acquires about.me, but is it a good thing? Only four days ago about.me launched out of beta and now today about.me is going to become apart of AOL's consumer applications group.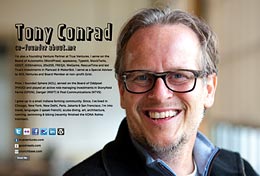 This acquisition is a little unexpected. During the short beta period since the announcement in September about 400,000 people signed up to get their own social profile. Though it shouldn't be a surprise, CEO of about.me, Tony Conrad sold his last startup, Sphere, to AOL.
It is a shock and surprise to all that Tony Conrad decided to sell the company so soon. about.me is in its baby stages and they have their foot in the door for the service, but is going so good. About.me has around $425,000 in funding from investors that include AOL Ventures and True Ventures.
We will have to keep a close eye on about.me and only hope that AOL doesn't make the same mistake like Yahoo and del.icio.us and neglect this amazing service.
Tony Conrad has more on the acquisition here.