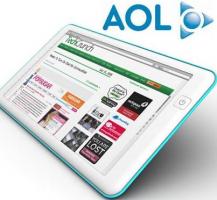 AOL has just made a couple of major steps to move the company in a different direction. AOL has announce the acquisition of of yet another company, after the recent announcement of the acquisition of Brizzly and Thing Labs.
These rumors surfaced Monday evening when both The Wall Street Journal and GigaOm reported that TechCrunch sat down with AOL to go over negoiations.
The announcement came in a suprise today, at TechCrunch Disrupt where AOL CEO TimArmstrong and TechCrunch Founder Michael Arrington took the stage to announce and sign the agreement infront of the audience.
AOL's CEO said that "TechCrunch and its team will be an outstanding addition to the high-quality content on the AOL Technology Network, which is now a must-buy for advertisers seeking to associate their brands with leading technology content and its audience." Tim and Michael would like to point a couple things out for this acquisition, Arrington will not be leaving TechCrunch and will still be writing and having a managing role over the TechCrunch network which includes CrunchGear, MobileCrunch, and TechCrunchIT, and other sites.
One of the main points that Arrington would like to point out is that this acquisition was meant in part to support the framework of TechCrunch. At the moment TechCrunch does not have the dedicated engineers to keep the site working smoothly. That among other outlined reasons were the deciding factors. Not, to surprise you either, but the acquisition of TechCrunch was predicted long ago when Arrington and AOL's CEO meet in New York for a conference.
Arrington will remain a part of TechCrunch for at least three years as part of the deal.