Apple Becomes Most Valuable Public Company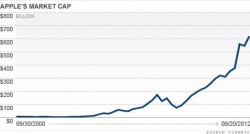 Another major milestone is archived for Apple. Recently, Apple reached an all time high of $664.74 per share, making Apple the most valuable public company ever in the world and in history.
Last week, Apple reached an all time high of $647.21, resulting in Apple to have a market capitalization of at least $600 billion. A major milestone for the company. But it does not stop there.
On Monday, Apple stocks received another boost in the value. Apple stocks rose another $16 per share the opening day after reaching the all time high, reaching to a new high of $664.74 per share. Multiply a share with the 937 million shares out there, the company's market capitalization reached beyond $623 billion, an all time record for any public company beating Exxon Mobil (who won the title last year).
The most logical reason for the jump in value is the rumored Apple announcement of the iPhone 5 and a smaller cheaper iPad in the coming weeks. It is still noted that the information is still a rumor as the company has not announced any announcement dates or devices.
Though the company has reached a milestone in becoming the most valuable public company, the value of the dollar is not the same as it was back then. In December, 1999, Microsoft was worth $850 billion in inflated-adjusted dollars. Today, Microsoft is worth $257 billion and the value of a share cannot buy you an Apple iPad.
As the rumored Apple announcement is getting closer, it is likely that the company's value will continue to go up.