Apple Now Selling Unlocked iPhone 4 in US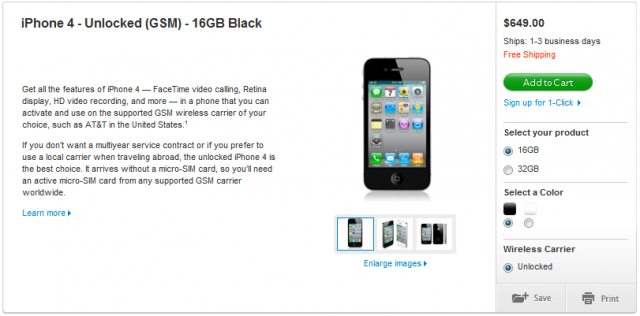 After many years of waiting since the original iPhone was released, the time has come. Apple is now selling the iPhone 4 unlocked in the US. The unlocked iPhone 4 is selling on Apple's online store for $649 for the 16GB model and $749 for the 32GB model in either the black or white models. Apple is right now only selling the GSM version of the unlocked iPhone 4 (the CDMA version is expected to stick to Verizon for now). If you are expecting to get a discount with a student/government employee, you are out of luck. The price is still the same for the unlocked iPhone 4.
While the unlocked iPhone 4 was supposedly to be released soon, it actually slipped out a day earlier.
While the GSM version of the unlocked iPhone 4 is currently on sale from Apple, users will stick with AT&T mainly if they want to use it in the US. This is due to the fact that the only other GSM carrier is T-Mobile (and we know that AT&T is in the process of acquiring T-Mobile). Although users can jump to the T-Mobile bandwagon, the iPhone 3G frequency is incompatible with T-Mobile's current 3G frequency (though T-Mobile has some good prepaid plans available). While users that buy an unlocked iPhone 4 and still use AT&T, they will still have advantages. Users having an unlocked iPhone 4 and stick with AT&T will not be tethered to a 2 year contract and still be able to switch carriers if they have to go out of the country (preventing significant international roaming fees).
While the US unlocked iPhone 4 cost $450 more than the carrier locked iPhone 4, it is still significantly less than unlocked iPhone 4 in other countries. In a few other countries, iPhone 4 are being sold for more than $1,000 USD, significantly more than what Apple is selling in the US.