Apple Releases Mountain Lion Gold Master Edition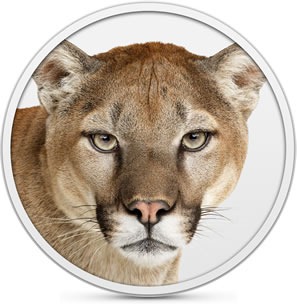 Recently, Apple has released the GM (Gold Master) version of this OS X operating system to developers. What makes the Gold Master edition so praised over the other beta builds is that the version of the upcoming operating system intends to be the final version before releasing to the public as operating system upgrades, pending some last-minute fix-ups and updates.
Apple first showed off Mountain Lion in February in a demo. When Apple demoed the upcoming version of Mac OS X, Mountain Lion, they demonstrated many services similar to iOS which includes a Notification Center, Game Venter, Notes, and Reminder. At Apple's World Wide Developer Conference 2012 at the Moscone Center West in San Francisco, they announced more features which include Dictation, iCloud, and Power Nap.
Mac OS X Mountain Lion Gold Master Edition, build 12A264 (the previous build was build 12A526), comes in a 4.34GB Mac App Store download. It is expected to hit the retail Mac App Store later this month. It will cost $19.95 for the update. Apple has noted developers to also start developing apps/programs for Mountain Lion right now. You can take a peak in the things Apple had changed and fixed in their 10.7.5 change log.
Mac OS X 10.7.5 change log









THE INFORMATION CONTAINED IN THIS MESSAGE IS UNDER NON-DISCLOSURE




OS X Lion 10.7.5 build 11G22 Seed Note




OS X Lion Update 10.7.5 is an update to OS X Lion 10.7.




Installation Instructions




The OS X Lion 10.7.5 Update (Combo) updates




- OS X Lion 10.7, 10.7.1, 10.7.2, 10.7.3 or 10.7.4 GM.




The OS X Lion 10.7.5 Update (Delta) updates




- OS X Lion 10.7.4 GM.




Please be aware that you will not be able to revert back to your previous system after updating. Please install this update on a system you are prepared to erase if necessary.




Known Issues




- None




Focus Areas




- Graphics performance and quality




- Image & Media importing, editing or viewing




- Networking reliability & performance




Bug Reporting




This build is being provided to you for testing and development purposes. Should you encounter any problems, please submit a bug report using the online Bug Reporter at . Please make sure to include "10.7.5 (11G22)" in the bug title and description. This information will ensure that your bug is processed quickly.




When submitting a bug report, please make sure to include a Summary, Steps to Reproduce, Actual Results, Expected Results, the System Profile Report, and any other relevant information that is necessary to process the report.




IMPORTANT: Engineering requires additional information for crashing bugs, kernel panics, and hanging issues.




Crashing Bugs: Crash logs are required for crashing bugs. Crash logs can be located in ~/Library/Logs/DiagnosticReports




Kernel Panics: Backtraces, which contain vital information for investigating kernel panics, are required for kernel panic issues. Backtraces can be saved to nvram on restart shutdown, then copied to the panic.log file on restart. The panic.log file can be found in /Library/Logs/PanicReporter.




Hanging Issues: When an application is hung, a Sample should be provided. This can be done using the Activity Monitor (/Applications/Utilities/). To generate a Sample using this utility, click on the hung application name, then from the View Menu select "Sample Process".




For complete instructions on submitting bug reports, please visit the Bug Reporting page at <http://developer.apple.com/bugreporter/>.




Thank you for your support,




Worldwide Developer Relations




Apple, Inc.




Legal Notices




The pre-release software identified above is Apple Confidential Information and your use of such software is subject to your Registered Apple Developer Agreement and Mac Developer Program License Agreement. Distributing such pre-release software to anyone other than another Registered Apple Developer who is working for the same entity as you is considered a violation of your agreement with Apple and is damaging to both Apple and those who develop for the Apple platform. We sincerely appreciate your efforts to keep this pre-release software Confidential.




You agree that you will not export or reexport any of the software or Confidential Information received from Apple (a) into (or to a national or resident of) any U.S. embargoed countries (currently, Cuba, Iran, North Korea, Sudan, or Syria) without first obtaining proper authorization from the U.S. Government; or (b) to anyone on the U.S. Treasury Department's list of Specially Designated Nationals or the U.S. Department of Commerce Denied Person's List or Entity List. You also agree that you will not use said software for any purposes where prohibited by United States law, including, without limitation, the development, design, manufacture or production of nuclear, missile, chemical or biological weapons.




THE INFORMATION CONTAINED IN THIS MESSAGE IS UNDER NON-DISCLOSURE




Xcode 4.4 change log




Xcode Release Notes




This document contains release notes for Xcode 4.4 GM seed. It discusses new features and issues




present in Xcode 4.4 GM seed and issues resolved from earlier Xcode releases.




About Xcode 4.4 GM Seed Supported Configurations




Xcode 4.4 GM seed requires OS X 10.8 GM seed or OS X 10.7.4. It does not run on earlier versions of OS X. Xcode supports development for iOS 5.1, OS X 10.8, and OS X 10.7.




Installation




This preview release of Xcode 4.4 is distributed as a single application bundle, Xcode44-DP7.app. To install Xcode during the preview period, open the downloaded DMG file and drag Xcode44-DP7.app to your Applications folder.




Within Xcode, you can launch additional developer tools, such as Instruments and FileMerge, via the menu item Xcode > Open Developer Tool. You can then keep the tool in your Dock for access when Xcode is not running.




Technical Support and Learning Resources




Apple offers a number of resources where you can get Xcode development support:




• http://developer.apple.com: The Apple Developer website is the best source for up-to-date technical documentation on iOS and OS X.




• http://developer.apple.com/xcode: The Xcode home page on the Apple Developer website provides information on the developer tools.




• http://devforums.apple.com: The Apple Developer Forums feature a dedicated Developer Forum for Xcode developer previews.




Use http://bugreport.apple.com to communicate issues with Apple. Include detailed information of the issue, including the system and developer tools version information, and any relevant crash logs or console messages.