Are Twitter Followers More Valuable Than Facebook Friends? [Infographic]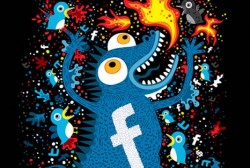 Currently in the social networking marketplace there are two competitors, Twitter and Facebook. Since these two companies are going head to head, the question on everyone's mind, which one is more valuable.
A recent study showed that Twitter followers have the higher potential than Facebook fans. While you cannot count an exact value for the two social networking companies, the study confirmed that Twitter followers have a higher change of buying from brands they follow over Facebook users.
Facebook does a have a step over Twitter in the advertising market. With 550 million members world-wide, 165 million in the U.S., Facebook is the clear winner where content can be shared with friends. It has been known in the advertising space that word of mouth advertising has the greatest chance of getting action to it.
Between the two social networking services there is a difference when it comes to incentives. Both the networks use either a push or pull marketing style. On Facebook advertisers often gain attention from fans by providing incentives or rewards for interaction with the brand. For example, Bing used social gaming network Zynga to reward people who liked their Facebook page by giving Farm Cash rewards to "FarmVille" to entice users to become fans.
Twitter, on the other hand, uses a pull method gain attraction. Followers of a brand will likely set out to initiate a conversation with a brand to compliment or complain. Although, this can start off as a negative for the brand it can quickly become a positive with the opportunity to engage and build loyalty.
Conclusion, it isn't about finding the monetary value of a Facebook fan or Twitter follower, but instead involves finding the medium between the two to build loyalty interaction from the users. It is all about the community that revolves around the brand, so until the brand provides interaction to customers they cannot put any type of value of their fans or followers. Engaging and providing a conversation is the first step to a return of investment with social networking.
The below infographic from BuddyMedia will help us all understand where we stand.
Click the image below for a large image: