Bin Laden Death Sparks Record Twitter Numbers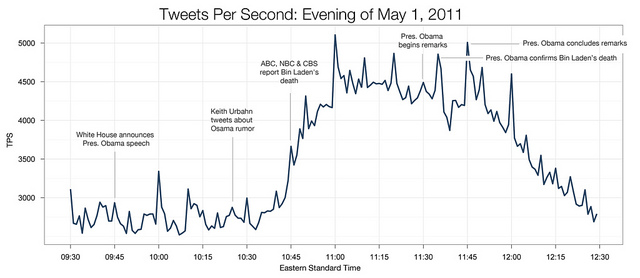 By now most of the United States and world is aware of Osama Bin Laden's death by U.S. special forces. At the same time of the announcement on TV, Twitter saw record numbers in history to the site, with the highest sustained rate of tweets ever in the history of the company.
Twitter officially released updated statistics of the usage for last night, and the numbers are insane with 12.4 million tweets per hour. At the start of the reports, Twitter reported that 4,000 tweets were being sent per second during the start and end of President Obama's speech. Those initial numbers were wrong, they were 25% higher than Twitter has originally posted about.
Just before the President's speech, users were tweeting an average of 5,106 times per second, the highest singe number of the night. This trend sustained throughout the President's speech and ended with just over 5,000 tweets per second.
[blackbirdpie url="https://twitter.com/#!/twitterglobalpr/status/65125306113073152″]
In a Tweet from Twitter they announced that the average tweets was 3,000 tweets per second. Which accounts to 27,900,000 in just over two and a half hours. Between 10:45PM EST and 12:30AM EST, Tweets averaged 3,440 tweets per second.
This single event broke every record set before it on Twitter, even surpassing the 3,283 tweets per second that occurred during Japan's victory over Denmark in the World Cup, and the 4,064 tweets sent per second was shattered from this year's Super Bowl.
This is all fine and dandy, but the record goes to New Year in Japan when 6,939 Tweets were sent in a second. That record may never be broken, but we take the cake for the longest sustained amount of tweets.