Bing Gets A HTML5 Facelift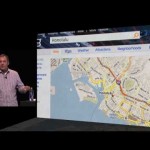 At Microsoft's big Internet Explorer 9 Beta launch event, Bing showed off an outstanding number of new features that will improve user experience and speed it up in the backend. Some of these new features include moving animated backgrounds, search results that have motion as you scroll, and hover windows.
This big show off event brought to the stage its new HTML5 rich features and capabilities. Bing announced on stage that it will start to integrate HTML5 features next month with a preview version of Bing.
During the event the Bing development team showed off the new animated moving backgrounds for the Bing front page. This growing popular is known to have spectacular images on the front page of the search site, but very soon that same image that you see now could be moving on your screen while you search for something.
This facelift is not all cosmetic; Bing developers have been hard at work designing this spectacular new site using HTML5. Some of the noticeable enhancements is the top set of menus will stay at the top of your screen while you scroll and you can even use Bing to customize your background by using images that you've searched for.
Since Bing's new website is coded directly in HTML5 not all your browsers will get the full experience, sorry to all you Chrome and Safari users.