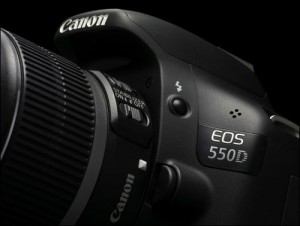 The successor to the Canon T1i, the Canon T2i is an excellent entry level professional camera. The resolution has jumped from 15.1 to 18 megapixels, over the T1i, with the same size APS-C CMOS sensor gives this camera a 1.6x crop factor, which is a 35mm equivalent.
An improved HD video function offers manual exposure control and a movie crop function. With this improved video function you are able to shoot 1080p video at 30,25, or 24 frames per second (fps) and in 720p this camera is able record in 60 or 50 fps.
The new 3.0-inch LCD monitor has increased in composition to 1,040,000 dots so that your images fully cover the screen. With seven levels of brightness and almost endless settings the customization of this camera is endless.
The T2i has a very quick power up time of 0.02 seconds and is to focus almost instantly. Canon has regulated sensor cleaning shutdown instead of startup to help keep the camera speedy and clean. Statistics show timings produced a 0.02 second shutter lag times, and 0.18 seconds for auto focus (AF) acquisition.
Having used this camera for a short time I found it very easy to use and every time I went to focus on an object I found the camera very responsive and accurate about 98% of the time. Each picture I took looked very crisp and sharp with the subject always dead on and focused.
Overall this camera is top notch from the vast amount of similar entry level DSLRs. The image and quality is the sharpest that I have seen from the entry level range of DSLRs. For the price of just about $850, this camera is jam packed with features and is amazing for the videographer who wants manual controls to create the best video and images. Ease of use is a good part of this camera with simple camera controls and a very simplistic menu style that allows you to customize your pictures to the max with little fiddling around in complicated menus. The performance of this camera is second to non, with fast boot up times of less than 0.02 of a second and accurate metering and focusing. For the beginner or casual photographer this camera is able to be expanded with many different lenses and other accessories for any of your shooting needs.