Chevrolet MyLink and Siri Intergration - CES 2013 Unveiled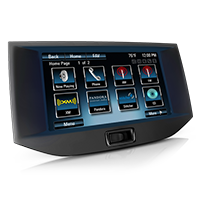 The MyLink radio is included in the latest models of the Chevy Spark and Chevy Sonic and is a very powerful piece of technology that makes managing other tasks while driving far safer and easier by utilizing the technology inside of the driver's smartphone. At CES 2013, Chevy showed us a pretty impressive feature that allows users to take advantage of Siri without even touching the phone.
If you happen to be driving home from work one evening and need to check up on a few sports scores, simply activate Siri via the steering wheel and talk to Siri just as you normally would with your iOS device. However, if Siri asks you to search through Google search results, your safety could be at risk. Thankfully, Chevy thought of that and does not allow your device to ask you to perform any action that involves taking your eyes off of the road. We have seen similar voice recognition technologies implemented inside of vehicles but none that allow the user to interact with a system they are already familiar with.