Dropbox Releases Dropbox Links To Share Files and Folders With Anyone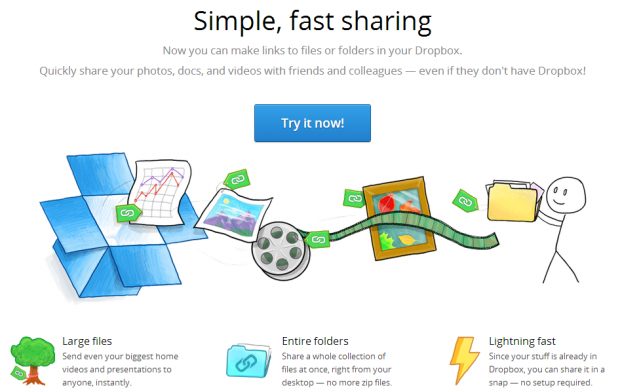 Dropbox has been a somewhat closed system when it comes to sharing files and folders. If you wanted to have shared documents, you'd have to have an account and have the person directly shared with a file or folder for them to access it. Dropbox seems to be making it a lot easier to share your Dropbox items with Dropbox Links.
Across all of them platforms from the web, desktop, and mobile you can click a simple link icon and get a share link that anyone can use to access shared documents and files without needing an account. There is nothing to setup, noting the user has to do except click on a link. Dropbox promotes it as letting you share large files, entire folders, and it's fast because everything is already there.
This is a huge move to boost Dropbox even more ahead of the competition in the cloud sharing market. There are a lot of cloud storage competitors out there including some big wigs like Google and Microsoft. Yet, they can't compete with Dropbox in the way of cloud storage. The closes competitor is Google with their Google Drive that allows you to install an application on any platform and sync documents. Although you're capped at 5GB with no way to upgrade without paying for more storage. Whereas Dropbox allows you to expand your space for free by completing missions and doing simple things. I personally have 25GB of free lifetime storage on my Dropbox account just by referring friends and completing missions. Dropbox almost gives out space like it was candy on Halloween.

To share your files and folders, it's incredibly simple by clicking the link icon and copying the generated link to your friends. If you're using the web interface, hover to the far right next to your item you want to share and click the icon that appears. If you're using the desktop app, right click on the file or folder you want to share and click "Dropbox > Share link." If you're on mobile it will be in the bottom left hand corner with the link icon.