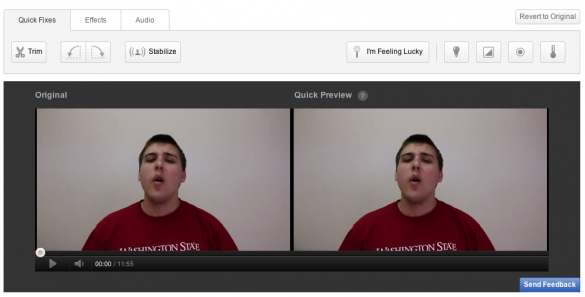 Rolling out today from YouTube, not only can you upload your videos to YouTube but now you can edit them with a wide variety of settings, event the famed Google "I'm Feeling Lucky" button made it into the video editor.
Using it feels like Instagram for YouTube with a variety of creative filters for your videos to make them pop. The editing display shows you your video in two formats, your original and your post edited version. You can play with a wide variety of settings that include trimming the clip, rotating, stabilizing shaky footage. Those are the easiest settings for beginners of editing videos.
For more advanced users, you can edit fill light, contrast, saturation and color temperature on the fly. As I mentioned before, there's the "I'm Feeling Lucky" button, which will attempt to find the right settings for your video and render them into the best looking colors.

Along with quick fixes, YouTube adds the ability to use creative filters to enhance your video by turning it black and white, sepia, cross process, lomo-ish, old-fashioned, cartoon and many more. All these effects are meant to be fun but we can see them being over used and quickly go out of style to use. We're not saying their bad, just don't over use them.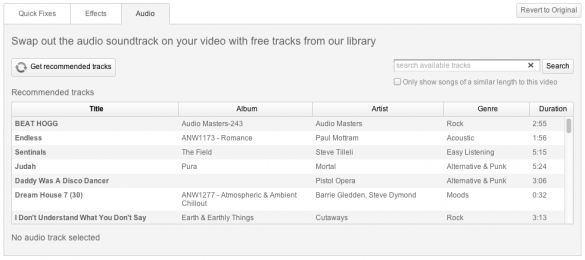 YouTube lastly integrated an audio feature that allows for replacing audio with one of their audio tracks. The down side to this is that it will strip all of your audio out of the video and replace it with the song that you've picked, essentially now you can edit videos with YouTube. YouTube has not added the ability yet to just overlay the video with audio, that may come soon.
If all else fails there is a reset button that will bring you right back to where you started. To learn more, here's YouTube's video explaining it all: