Facebook Clickjacking Attacks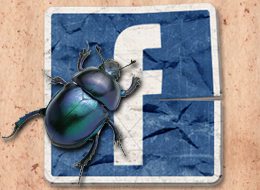 A new malware attack is spreading through Facebook's news feed system, according to some reports from Twitter and other social media sites.
The attack is a message starting with the popular malware phrase "try not to laugh xD," followed by a link like this:
"http://www.fbhole.com/omg/allow.php?s=a&r=72306"
(don't open it).
Just as a heads up the domain fbhole.com is not registered or owned by Facebook in anyway.
The attack, seems to be reposting the message without your permission. Once you have clicked on the link, you'll see Facebook grayed-out and a weird dialogue that looks similar to a Windows error message, containing a phrase, "If I don't, someone else do it." If you click anywhere on the page, you'll repost the link because your click is landing on a moving frame with very low opacity. By clicking on it, you're actually clicking the hidden "publish" button on Facebook.
Interestingly enough, the root index file of the site in question (www.fbhole.com) contains only the phrase, "My Facebook," which links to a nonexistent Facebook profile.
Clicking on suspicious links is always dangerous. If you've seen this (or a similar) attack on Facebook, please report it to facebook.