Facebook Reveals Remote Logout and Single-Use Password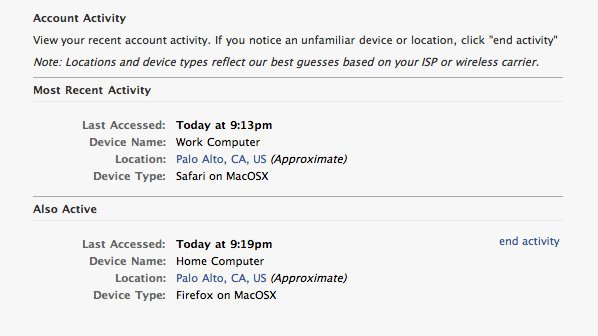 Facebook has finally doing something to address some privacy issues. They are starting to roll out new features that include the ability to force logoff yourself from other locations and single-use passwords.
You've probably been in the situation where you have logged into Facebook from a friends computer or on a public computer and as soon as you leave, you wonder if you logged off of Facebook.
Facebook is releasing two new very safe features for users like you. One of the new features allows you to simply text "otp" to 32665 from your mobile phone, associated with your Facebook account, and Facebook will immediately send you a temporary password that can only be used once and will expire from use in 20 minutes.
Facebook is also debuting the ability to sign out of your account remotely. Similar services like Google have had this ability for a while.
In your Facebook Account Settings page, you are able to view your last period of activity, just in case you're afraid someone has accessed your account. In the last activity page, Facebook includes the approximate location of the person and what device they were using to access the account. That way you can keep close tabs on who is accessing your account.