Apple Announces Mac Specific Event Coming October 20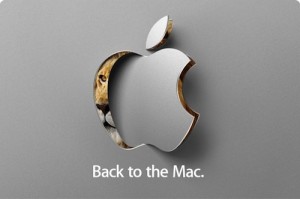 On Wednesday, Apple has issued invitations to the press for an event on Wednesday October 20, 2010 at 10PM PST.
Named "Back To the Mac", the invitation shows an Apple logo slightly rotated with a lion lurking behind the slightly rotated Apple logo. The lion image was plenty of a clue that there will be a new release to Apple's cat themed operating system.
Apple will be unveiling Mac OS 10.7 Lion on Wednesday October 20 at 10PM PST. Although that Apple will be unveiling the new Operating System on Wednesday, it will probably be released in about another year during Apple's summer WWDC event.
Remember, mark you calendar for Wednesday October 20, 2010 at 10 am PST for an apple event about the new non-mobile operating system.