Skype Gets Facebook Integration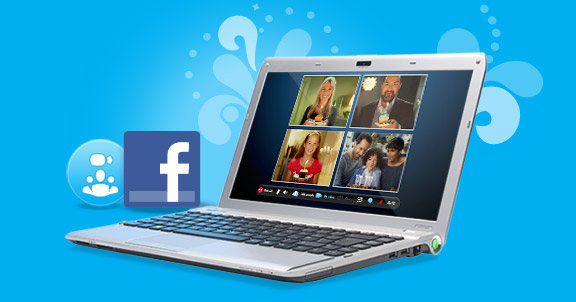 Skype 5.0 for Windows has just been released with some monumental improvements and features. The most significant of which is the integration of  Facebook. Inside of Skype there is now a Facebook tab that allows Skype users to chat or call their Facebook friends via Skype.
Skype's Facebook integration is simple, and brings you Facebook right inside Skype. By clicking the home icon you'll get the extended Skype Home area, which includes your personal dashboard with news, alerts and a summary of mood messages. In this area the new Facebook tab lets you view your Facebook News Feed and Phonebook directly inside Skype.
The Facebook News Feed section will display a summary of activities like you see within Facebook, except that below each status update there are two Skype buttons; SMS or Call. These buttons only appear if your Facebook friends have included their phone number in their Facebook profile.
If you have a friend with a mutual connection on Skype, you'll also see the option to start a Skype call.
These exciting new features are significant, but Skype's latest release includes much more than Facebook integration.  There is also an improved 10-way group video calling, enhanced contact lists, more emphasis on profiles and a completely redesigned user experience.
One of the great new features is, Dynamic View, this option automatically positions the person speaking in the larger video window. Along with that,  Skype released improved 10-way group video calling, and an automatic recovery feature that will get disconnected audio and video chatters reconnected.
For a long time the contact list has gotten neglected. But, with 5.0 the contact lists got a face lift with the inclusion of photos. The profile photos are a big plus and will make the search experience easier for members to better find their friends on Skype.
Unfortunately, Mac users will have to wait for these new and exciting features. Skype has made no comment on how long it will take to release the Mac version but they say it will been very soon in the near future.