Google Advisor Wants To Help With Your Finances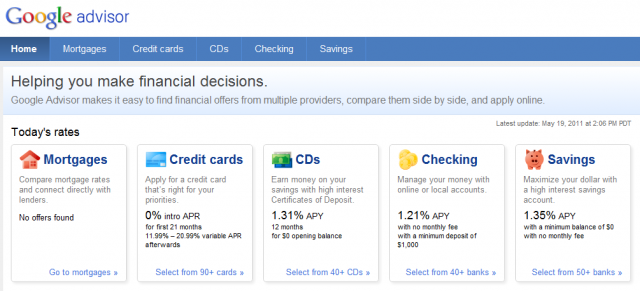 We all know that the massive company that we call Google wants to get their hands in every market. With today's release, Google is taking on another market that has to do with your personal finances. This new tool called Google Advisor helps with finding and comparing financial products and options.
For now, Google Advisor is a personal finance comparison tool. This simple yet powerful product helps users check rates on mortgages, credit cards, CDs, checking account and saving accounts by outputting a list that meets your specific criteria. For users looking at mortgages, Google lists providers by APR, monthly payment, fees and contact details. For those searching for a credit care, Google Advisor can give data on rewards programs from cards, type of cards, purchase APR and annual fee.
Google is known for searches, but Google Advisor isn't a search engine, it's a comparison tool. With lots of filters and options when looking for your next financial move, the service is a great comparison engine.
Everything except for mortgages are treated the same. While Google doesn't get money if you find a credit card, CD, checking account or savings account, it does make money when you contact a mortgage lender. When browsing through results you will notice some of them have "sponsored results" associated with them, while others only have "matching results." This small feature could be expanded over time and spill over to other products with Google Advisor.
Google Advisor is a powerful program, but are you ready for Google to tell you where you need to put your finances? How much do you trust Google, and how far would you trust them?