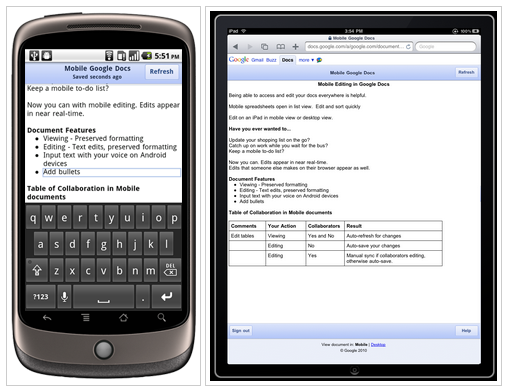 Google Docs is an amazing platform for having your files in the cloud so they never get lost. For a long time you were only able to edit your documents on a computer because it was not able to interface well with your mobile device. Google is starting to really embrace their powerful cloud programs on mobile devices because of the expanding access through mobile devices like the iPhone and Android.
This prompted Google to really look at their mobile presence and how easy it is for their users to access Google's content. Over the next couple of days the very popular Google Docs platform is coming to mobile devices by going to docs.google.com it will detect your on a mobile device and scale the page appropriately for you to be able to edit documents on the go.
Starting in the next few days users on the Android with Froyo (version 2.2) and on iOS devices (version 3.0+) including the iPad, will be able to access the mobile editable versions of your documents. Google says that it will be only available also in English as well, although covering most users those foreign speaking Google users will have to wait for just a little longer..