Google I/O 2012 Keynote Recap [DAY 2]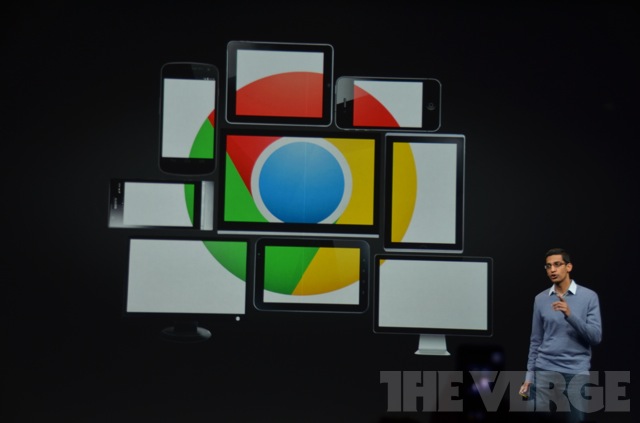 While day 1 of Google I/O 2012 keynotes was filled with new information and unveilings in the mobile market, day 2 is filled with new information about the desktop and the browser market.
Vic Gundrotra comes on stage, wearing the project glass. He started the keynote with a statement, "I hope you're enjoying your Android Development Kits." After talking about the stats about the Google Plus event last night, he brings in Sundar Pichai, senior vice president of Google Chrome.
He starts off talking about Google Chrome for Android becoming a native client on the Nexus 7. He then talks about the new Samsumg Chromebooks they announced a few weeks ago. He then says that the internet traffic is exploding at a dramatic rate. He then talks about the beginning of chrome and the stats of Chrome web browser (60 billion words typed, 1 tb downloaded and 13 years of time saved). He then says that most people have chrome installed on multiple devices. He then shows a typical use cases for chrome bringing the office browser environment tabs and settings to the mobile and home environment.
After showing a demonstration of the Google Chrome browser, Sundar announced that Google Chrome will be on the iOS and will be rolling out on to the App Store soon. He then shows a sneak peek of the interface, showing that tabs are stacked up and closed with gestures. The app will sync with the prefrences and tabs from his account synced with his other computers and will have  incognito mode.
Sundar comes back and talks about Gmail and mentions the other Google service they provide. He then states that many places have been "Going Google". After showing which big businesses and a video about Going Google, he talks about Google drive and brings in Clay Bavor.
Clay comes onstage and talks about the Google drive. One of the things Clay mentioned is that Google Derive will have iOS and Chrome OS clients now. He then demoed the iOS client first. He shows finding a USPS receipt he found using the optical character recognition service. He then shows finding how to search pictures in the app. Clay says "We can actually use image recognition technology to peer inside the images to understand the content", with " no labels, no metadata, it just works." Clay then shows that he is sharing a document with someone.
He walks over to a Chromebook stand now. The environment is similar to the iOS. He pulls up a Google Docs file and shows that is collaborating with multiple people at the same time. He then announces Google docs work for editing offline. He demonstrate by removing his ethernet cable and loads a document without any interruption, and when he is back online, the changes appeared. Clay said that documents will be available today and that spreadsheets and presentations are coming soon. He then talks about third-party applications and SDK use. He is showing how the third-party apps connect with Google docs/Google drive with ease. He then shows the third-party app LucidChart and said that "LucidChart tells us that their users, when they come from Drive… create three times more diagrams."
Sundar comes back and talks about Google Chrome OS. He talks how they introduced the concept and how it changed over time with more faster devices, app-centric experience, and cloud ecosystem. He later states that "We're very excited by the model we are working on, and we're going to be investing a lot more here." He then said that the Chromebooks will be on 100 Best Buy retail stores and Dixon in the UK and promises more stores by the holiday. He then brings in Urs Holzle to talk about web development.
Urs talks about the servers and infrastructure and that talks about App Engine, saying that it is the largest NoSQL service in the world. He then states that "We're very proud of what App Engine has enabled developers to do, but many of you have said you want even more options." He introduces Google Compute Engine, a service about virtual machines on demand with scalability and low-cost. He then demos the service. He shows human genome creating on many virtual machines. He then states that "We know that you want top scalability and top performance, but you also need value, and Compute Engine is a great value, delivering up to 50 percent more computes per dollar than other cloud providers." He then shows that 771,886 cores open and allocate 600,000 of those cores to the genome and calculating genome. As though he said that it will be available at a low-cost, he did not state a price yet.
Sundar comes back on and that they are looking at a visualization of how the web platform has evolved, beginning with Mosaic, Netscape, Opera, Internet Explorer and various versions of HTML After talking about the platforms and technologies.
He then moves on to talk about games and the reason why Chrome is supporting games. He later demos the game Gaikai with new sound API, and raw network applications. He then later talks about the stats of other apps including Angry Birds. He says that the apps need to [1: be always available, even offline 2: be "authentic" and not cut down and 3: have enhanced device access directly to the hardware] for chrome apps to continue. He then brings in a developer of the game to show you how the app works with HTML codes with DIV layers running on a Chromebook.
Sundar is back and shows a retrospective video of Chrome; showing that 200 million Chrome users on October 2011, and today 310 million Chrome users.
After announcing that the attendees will get Chromeboxes, they showed Sergey on the roof of the building, and more jumpers again, just this time, Seregy is seeing the event live rather than on stage in a hangout. After asking the downtown San Francisco residents to look outside their windows, the jumper/BMX riders/rock climbers did the same stunt again from day 1 but with a (audio only) demonstration of how it works. Lastly Seregy comes on stage with a shade accessory for the glass and  to thank the attendees.