Google Unveils First Chrome OS Laptop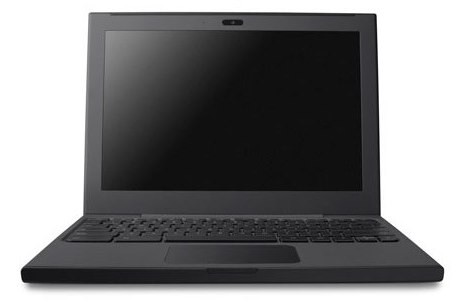 Yes, it's true, Google unveils the first Chrome OS laptop. We've known for a long time that Google had a Chrome OS laptop in the works. Today the unbranded, model Cr-48, laptop has be unveiled to the public.
Google, initially, will distribute the laptop through the Chrome OS Pilot Program, sort of like a public beta. You will have to apply into the beta and only a limited number of participants will receive this unbranded laptop. But, retail Chrome OS models from Acer and Samsung will be available in the middle of 2011 for the masses.
What users will get:
12.1-inch screen.
Full size keyboard.
Oversized clickpad.
Qualcomm Gobi 3G chip for Verizon data in the US, your carrier of choice internationally.
802.11n dual-band WiFi.
8+ hours of active use.
8+ days of standby.
Webcam.
Flash storage.
The keyboard is unique, with no function keys, but a row of Apple-like keyboard actions. Furthermore, the caps lock key has been replaced with a search button. Again, this is a unbranded laptop, the only thing to identify is the model number, the "Cr-48" refers to an isotope of the material chromium, there's no logo and no design no-nothing on the laptop itself.
Google wants to make it clear that this isn't a mass market device, with Chrome OS still in young beta stage.