Hands-on With Firefox 4 [Review]
Early Tuesday Mozilla released Firefox 4. This is a full two years after the last major release of 3.5.
Since Firefox 3.5 things have change, and we aren't talking about small changes, no the whole landscape of browsing has changed and Mozilla Firefox is here and showing off those new web standards.
When Firefox first hit the market in 2000 they revolutionized the way people browse the internet. Mozilla was the first of its kind to be open-source and have a cleaner UI. Since the first release Mozilla has brought innovative features like tabbed browsing, it even used add-ons to an extent that hadn't been seen before.
Sadly over the last few years, users have shifted away from it. Most add-ons started to slow down the users system and Firefox experienced periods where the program had a memory leak. Firefox was also using an outdated layout engine called Gecko, but with the introduction of WebKit every other browser was using that and Firefox neglected to switch and started losing the browser market because of it.
This hugely important release from Mozilla fixes these problems. There hasn't been an extensive beta test period of Firefox, the developers have been very through and spent countless hours getting up to this final release.
User Interface
---
Mozilla 4 first hit the internet back in 2009 when Mozilla released some screen shots of the new browser with the tabs on top of the application. The minimalist design is exactly what users want in a browser and Mozilla seems to have built upon that common thought in browsers.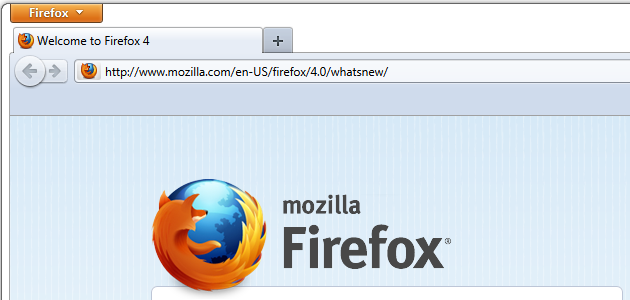 Tabs are a nice size and don't blur the line between the tabs and top of the application so users won't drag a tab instead of dragging the window. Cycling between tabs within Firfox has gotten even easier.
Mozilla has even done something radical and changed the location of the home button to the very right hand side of the address bar. The minimalist design can be built upon and the bookmarks bar can be expanded to its own line for the users who use bookmarks frequently. All components can be customized simply by right clicking on the area and choosing "customize".
Firefox has even done some innovating and created what they call Panorama, a way to group tabs. It creates different groups of tabs and lets you switch easily between them. Power users will find great use of the new grouping system while others can just ignore it.
Speed
---
It used to be commonly known that Mozilla Firefox was the fastest browser on the web. But that was back during Mozilla 3, over the years it has become bloated and slowed down significantly. Since earlier releases other browser makers have opted for a more powerful JavaScript engine and focused less on the rendering engine.
With Firefox 4, Mozilla claims it to be six times faster than its predecessor. It does have some amazing speed improvements and pages are loading faster than ever compared between Firefox 3.5 and Firefox 4. Compared to Chrome, they both launch in about the same time and load pages just as fast.
Add-ons
---
Within this new release Firefox gets a totally redesigned add-on system. Add-on installation and browsing now takes place in its own full browser window, rather than a pop-up screen. This is not only easier on the eyes but makes reading, finding, installing and removing add-ons a breeze.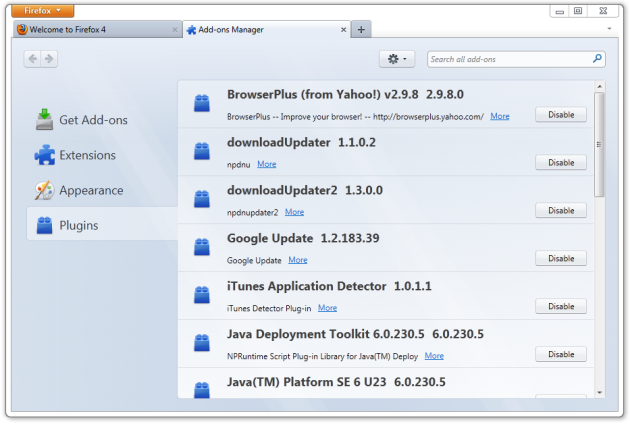 Most of the major mainstream add-ons are compatible with Firefox 4. Users may run into a add-on or two that is incompatible. But add-on developers seem to be on the ball with this new update. Since this is a new browser give developers a week or two to make their add-ons compatible. If your favorite add-on isn't updated in the next week or two, it might be time to look for a replacement; it probably indicates developer abandonment.
Since the release of this major version Firefox will be pushing for more lighter weight extensions, like those for Google Chrome. These add-ons are usually built using HTML, CSS and JavaScript and tend to use less resources on the browser.
Add-ons have been Firefox's best strength in the browser market but it has also been its weakness. The impact of most of these add-ons have effected performance of the browser which seems to slow down with each new add-on installed. It is safe to say that not all of Firefox's downfall comes from the quality of the add-ons available for it.
It is tough to find the line between utility and performance, users want to try every new add-on under the sun and the cost of doing so tends to cast a bad image when the users computer and browser start to crash. But from what I understand about the Firefox add-on APIs and toolkits, it is an area Mozilla has spent a lot of time working to make better, with the new API and add-on options the browser might make a huge come back.
Conclusion
---
With the massive changes of Firefox 4 old users might come back and existing users can take a deep breath and start anew. My personal answer is mixed, at home I will continue to use Google Chrome, but when I am traveling and not at my work or home computer I will keep Firefox close to me on a USB drive. I will keep Firefox 4 on my computer for those off chances that Google Chrome crashes.
The new UI is exciting and a great relief from past versions of Firefox. Their new feature Panorama is something I could potentially use and the performance improvements are remarkable.
Firefox user are gonna love this. Developers are gonna be over joyed with having this on their computer. And the obsessive compulsive clean freak will be pleased with this simple layout.
As far as competition goes Firefox is getting up there. Like Google Chrome and Safari before it they have these cleaner interfaces and smooth browsing experience.