AT&T iPhone Users Rely On WiFi More Than Verizon iPhone Users [Study]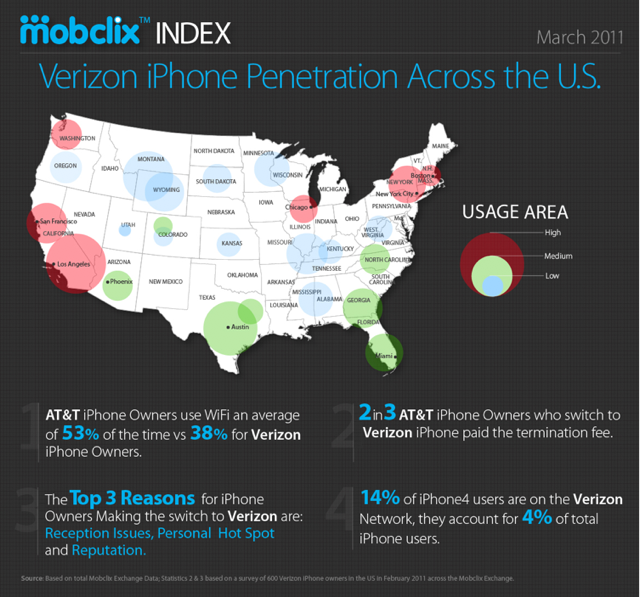 In a survey released this morning from the mobile ad exchange company Mobclix reveals that users of the Verizon iPhone use WiFi less often than users of the AT&T iPhone. Also revealed in the study, Mobclix's data suggests that larger metropolitan cities have a higher amount of iPhone usage over the AT&T iPhone.
According to the graph published by Mobclix the largest areas of Verizon iPhone usage include Seattle, Chicago, New York City, Boston and Los Angeles. This is due to the common assumption that AT&T has signal problems in large dense cities.
In their report Mobclix also reports that AT&T iPhone users use WiFi about 53% of the time and Verizon users use their WiFi 38% of the time. The only explanation of this is the reception problems with AT&T. Users get so fed up with dropped signal that they find the nearest open WiFi point and continue with what they are doing. Granted, this isn't an optimal way to use an iPhone and you can't make calles over WiFi but for most users they seem pretty happy about it.
Noted that AT&T has a vast WiFi Hot Spot network with over 24,000 hot spots throughout the U.S., and with the iPhone supporting auto-authentication these points are easy to pick up and connect to when traveling or on-the-go. Another bonus to throw in is that none of the WiFi usage counts towards the monthly data usage plan.
The best part about this graph is the number of users who paid the $325 early termination fee to switch to the Verizon iPhone. 2 in 3 users paid that fee with the reasons being all the same and talked about reception issues and Personal Hot Spot.
Mobclix mentions that 14% of iPhone 4 users are on the Verizon Network and account for 4% of total iPhone users, which is pretty good for only being on the Verizon network for a month.