ifixit Tears Down Nexus 7 Tablet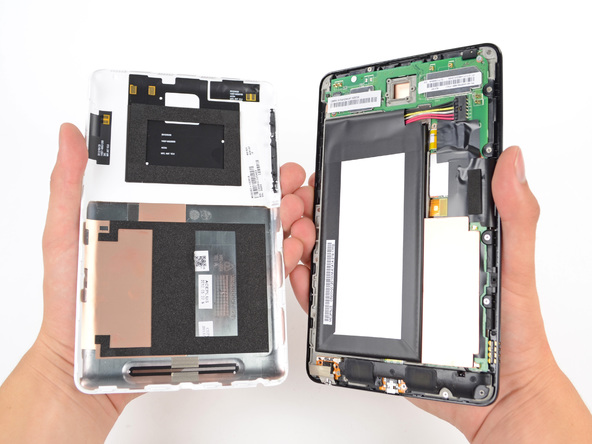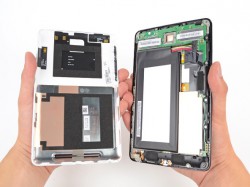 When there is a product that is popular, you know ifixit will open the device to show us the goods inside the product. It is no difference with Google's Nexus 7 tablet.
One thing to note, that ifixit gives the Nexus 7 tablet a 7 out of 10 in repairability, while the Kindle Fire gets a 8 out of 10 in repairability. ifixit says that the "rear case is very easy to open, and requires minimal prying effort with a plastic opening tool to remove", it uses standard Philips screws, the battery is simple to replace without any tools, and that "many components, including the I/O ports, can be replaced independently of the motherboard."
Taking a look into the tablet, the specs includes…
NVIDIA T30L Tegra 3 processor
1GB Hynix HTC2G83CFR DDR3 RAM
AzureWave AW-NH665 wireless module.
Max 77612A inverting switching regulator
Broadcom BCM4751 integrated monolithic GPS receive
Invensense MPU-6050 gyro and accelerometer
Kingston KE44B-26BN 8GB flash
NXP 65N04
1.2 megapixel front-facing camera only
Hydis HV070WX2 7-inch, 1280×800 HD display
RMC ALCS642
ELAN eKTF36248WS
ELAN eKTH10368WS
Texas Instruments 22C96ST
TI20 MI60
Kingston KE44B-26BN/8GB 8GB flash (on the one they tested)
A scratch resistant display that is fused to the display
ifixit notes that the Nexus 7 tablet has a lot of copper alloy heat sinks which assumes that the device can get really hot inside the device. ifixit also notes that the screen is fused with the display glass, which makes the repair cost of replacing the screen (if it is shattered or something similar); though the cost for the device and the thickness of the screen provide a good enough reason the screen was fused together.
You can read up on the ifixit full report on the Nexus 7 Tabet on their site.