Internet Explorer 10 Platform Preview [Video]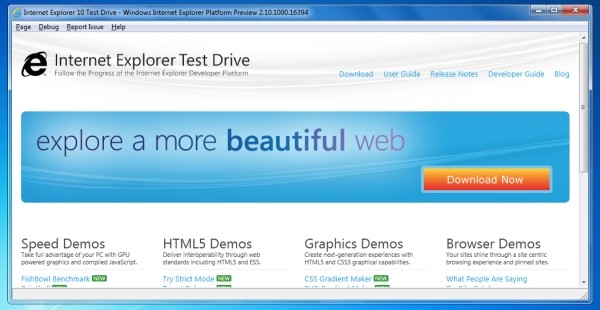 Just one month ago Internet Explorer 9 was released to the general public in a stable build that brought many much-needed features to the table. Starting with a new UI that brings the browser into the next generation with a minimalist design like that of Google Chrome and Firefox. Sitting here one month later, out from the Microsoft garage comes the Internet Explorer 10 platform preview.
When IE9 was released, it brought many CSS3 and HTML5 functions with it, enabling advanced HTML developers to get a good helping of the good stuff. Now the HTML5 developers can get a lot more with this release. Inside this platform preview we find everything that HTML5 has to offer and gives us the first true HTML5 browser that uses the majority of the coding commands within the HTML5 structure. IE10 will enable multiple video platforms to stream through the client eliminating the need for Adobe Flash Player. Check out the video above for the full walk-through of all the new features of Internet Explorer 10.
How do you like the new IE10 platform features?