iPhone App Review: Skyfire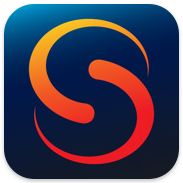 While Apple does not have a have a official option of running flash on iOS devices, there are apps that will let you play flash. One of the best known app is Skyfire. Unlike other apps that does about the same job, Skyfire just requires a one time pay of $2.99 for the app and lets you use the app to watch flash videos. There are other apps like Cloud Browse, but the downside of using those apps is that there is a cost for the app, and either a low frame rate when watching the flash videos and being stopped if a subscribed user wants to use it or a subscription cost to take the full advantage of the app.
The reason Skyfire can play flash videos on iOS devices is that Skyfire has servers (that are constantly being expanded) that converts the flash video to a streamable
video that the iOS can support. The app will grab the flash video embed of the selected page and stream the video to the iOS device.
Upon the first time using the app, you are greeted with information on how to use the app. The app's interface is similar to the safari app although the app has a button that will send the information to Skyfire servers to play the desired video. The app also has the ability to easily look for videos, image trends and tweets within the app's built in search field by clicking the button nest to the button to play the flash video. The app also allows you to easily share the page to friends by email, Facebook, or Twitter.
Although the skyfire app can flay many flash videos, not all flash video can be played. Sites like hulu, nbc,etc… are unable to be played by skyfire (probably because hulu and other sites will. Ironically, Skyfire is able to play videos from ABC [American Broadcasting Company].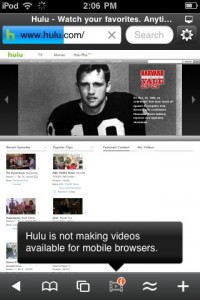 Skyfire is available on the iPhone and iPod Touch, though an iPad version is in the process. Also, the app is being released in batches as their servers are constantly expanding (so the app might not be available to be bought). You can get the app from iTunes app store.