Judge Forces Apple To Say Samsung Did Not Infringe Them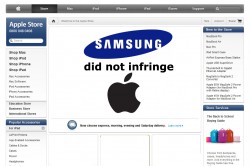 While Apple and Samsung are still in a patent war with each other, it just got more real than before.
Recently, Bloomberg reported that a judge in the UK ordered Apple to publicly tell their UK customers that Samsung Electronics Co. did not copy or infringe on Apple's design and patents. Under the ruling, Apple is required to post the message to several newspaper and magazines in the UK and post it on their website for six months.
This comes after the July 9th decision when the London court decided that the Samsung's Galaxy tablets do not infringe on Apple designs. In the ruling, judge Colin Birss said that the Samsung Galaxy Tab do "not have the same understated and extreme simplicity which is possessed by the Apple design," and say that the Galaxy tab designs were "not as cool" as Apple's iPad.
Under the ruling, Apple has to "correct any impression the South Korea-based company was copying Apple's product". While Apple is required to public say that Samsung does not infringe on Apple's patent, Birss also wants to make sure that the information gets published across a number of newspapers and magazines in order to undo some of the damage done to Samsung's reputation.
Apple in return complained that the order will forcibly make Apple to advertise Samsung and said that "No company likes to refer to a rival on its website," according to Bloomberg.
Hopefully, the order will have a domino effect on the market nationally and globally. It could have been worse, Samsung may ask the court to apply an injunction on Apple's iPad like they did in the US.