Microsoft Announces Windows 8.1 [VIDEO]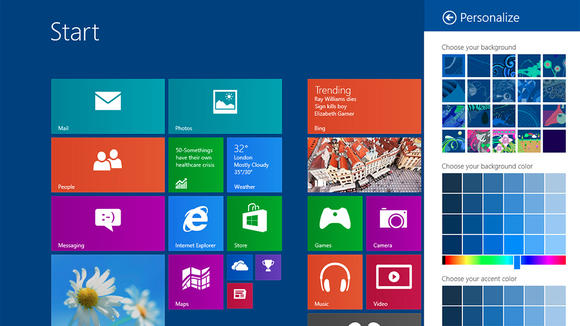 Over at BUILD. Microsoft announced that the Windows 8.1 preview is available starting today.
According to the preview, various things have been changed. The first thing Windows 8.1 shows off its ability to personalize the operating system more. The start screen now comes with two tile sizes. "Large (really big) and small (really small)". The start screen offers more colors and backgrounds, "including ones with motion" and setting the desktop background as the start screen background. You can also select multiple apps all at once, resize them, or rearrange them and even uninstall them. The lock screen can be set to show a slideshow of your images and now has a button to take pictures without unlocking the device. Windows 8.1 also comes with a better ability to have multiple apps on the same screen at once. You can now resize apps to any size you desire, and have up to four apps on screen.
In addition to various cosmetic changes, Microsoft made some changes to its built in apps. Examples include photo editing features to the photos app, a redesigned Music app that helps you pick and play music from your collection, and other various changes.
Microsoft also made some enhancements to the backbone of the operating system. With Windows 8.1, you can allow access all of your settings on the device without the need to go to the desktop mode. Windows 8.1 also brings back the Start menu (in which they call it Start "tip") to add better mouse and keyboard options.
You can download and try out the revised version of Windows through the Microsoft Store or through Windows 8.1 preview page.