Microsoft Redesigns Hotmail - Gives @outlook.com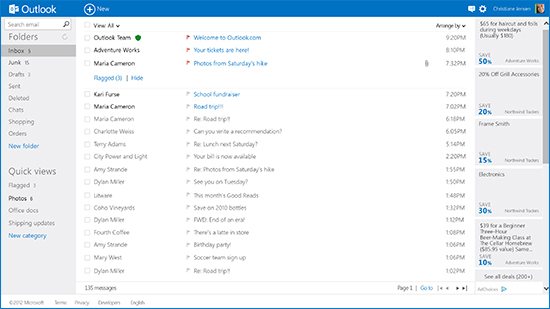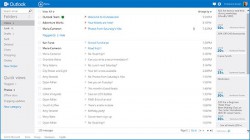 If you have been on the internet for a while, you know that using Hotmail is silly and a joke on the internet. As if it was believed that Microsoft would completely abandon their email service, they added new life to the service.
Recently, Microsoft unveiled a preview of a completely redesigned Microsoft's mail service, known as outlook.com. The service now has the ability to check you inbox from Hotmail and live accounts, Skype with friends, open and edit office documents on the fly, and connect to your Twitter and Facebook account all in one. The design has a resemblance to the Windows 8 metro design.
Mictosoft said on their page.
Outlook.com, Microsoft's new personal email service that launches in preview form today, offers the first major improvement to cloud mail in eight years, said Chris Jones, Microsoft's corporate vice president of Windows Live.

"We think the time is right to reimagine personal email, from the datacenter to the user experience," he said. "So today we're introducing a preview of Outlook.com."
With the announcement of a redesigned service, Microsoft is also making @outlook.com email addresses available to the public. Which mean that people should get an email address that they want as soon as possible before they are taken by someone else.
Although the old version of Hotmail will still be in use, the new service will bring together all of its best features and more, accessible via the web, Exchange ActiveSync compatible clients, and POP3. Users can use their old Hotmail/Live account with the new Outlook service or they can get a @hotmail email address by upgrading their Hotmail/Live account or by signing up for an Outlook email address at http://outlook.com. Though if you are using a Windows Phone, you should wait for a little while before upgrading to an @outlook address as it might bring the phone's operation to a halt.