Monster OTG400 Travel Power Strip Review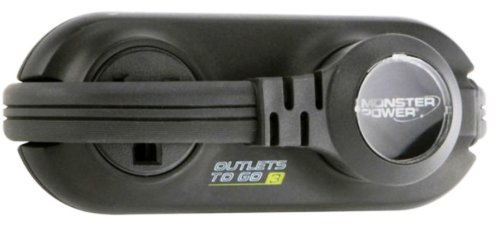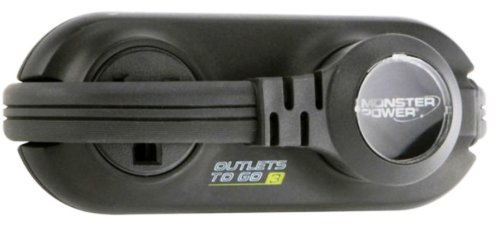 Traveling can be a hassle, especially if you have a lot of devices that needs to be charged and/or powered by an outlet. Though some are small, they don't provide a lot of outlets. Monster has a wide variety of travel surge suppressor that are small, yet contain many outlets to plug your device into. Today, we are reviewing the Monster MP OTG400 travel surge protector.
At first glance, you can see that the Monster MP OTG400 contains 4 surge suppressor outlets to plug-in all of your devices when you are traveling (2 regular and 2 wide spaced outlets). When you pull out the flat cable and unwrap it from the power strip, you will notice a small red reset/resume plug.
Pros:
Small and portable. The power strip's plug plugs into the outlet when it is collapsed

Only 2.5 inches thick and 6.5 inches long in when collapsed

Expands out, giving you a 12 in extension cable

Indicator light on the plug to let you know if there is electricity and there is power flowing to the power strip

2 standard spaced outlets and 2 spaced plugs for wide adapters

Surge suppressor
Cons:
Though it is capable of accepting 220V or 240V electricity, the device does not switch down to 120V electricity; requiring you to purchase a voltage converter or have devices that are tolerant to 240V

The warning tags can get annoying as it slowly unravels from the cable. A piece of tape will keep it in place.
Overall, the power strip is useful when you are traveling in the states or in areas where electricity is 120V; but if you need to travel to locations where the voltage is 220V or 240V, you should get a strip that is capable of stepping down the voltage to 120V to prevent your device from frying. For $8 on Amazon.com, it is nice when traveling, but not for common use.
Although the version we are reviewing contains 4 outlets, there are other varieties of Monster travel power strip. There are travel power strips containing as much as 6 outlets, and even a USB charging port. Just choose the one that is right for you.