my-Ditto Home Network Server [REVIEW]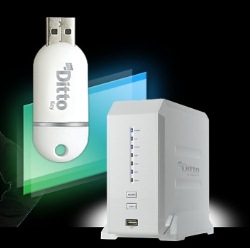 If you're looking for a home network solution to share and access files anywhere in your house or the world, the my-Ditto is the solution for you. This home network attached storage (NAS) system is the easiest solution for anyone regardless of their technical background. Being expandable up to 3TB and with easy access keys data can be access from anywhere.
The base devices comes with one 500GB HDD that takes up one of the two slots in the back of the unit. For most users 500GB is enough but if you must have more space, get the biggest HDD you can and you can stick it into the second slot of the unit. For most regular users they can choose to use both hard drives as separate storage locations. For the more advanced users, RAID can be used to create the desired effect in the unit and your purposes.
The unit comes with two USB keys that work in tandem with the device, allowing access and administration of the my-Ditto. If more USB keys are needed, the my-Ditto can authenticate as many USB keys as you can make. Allowing for up to 30 users per device and 10 users being simultaneously connected to it. My personal experience with the device is amazing, because the USB key holds the application and information to access the device I don't have to worry about incompatibility and it works with all operating systems.
If you have a mobile device, the my-Ditto can be accessed from the latest iPhone, iPod touch, Android and Windows devices.
The my-Ditto is also great for home streaming of movies and music to any device. This powerful package comes at a cheap price for anyone to afford. So if you are unsure about online cloud storage systems, or need more space to keep files check out the my-Ditto and use the following link to get the cheapest price for the unit and give us the referral, Dane-Elec my-Ditto Home Network Server.