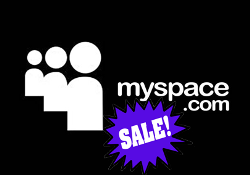 Here we go all over again, MySpace has become a lost social network and the current owning company, News Corp, is planning to open up bidding to a handful of venture capital firms and other companies to try to sell of the site.
At the earnings call last February News Corp announced that it is getting ready to sell off MySpace. News Corp at the time hesitated to sell because of ongoing layoffs and a redesign to the site that could have brought it back.
News Corp is reportedly looking to get at least $100 million, by a report from The Wall Street Journal which shares a parent company to MySpace. Potential buyers include Redscout Ventures, Thomas H. Lee Partners, and Criterion Capital Partners LLC.
Back in 2005, News Corp acquired MySpace for $580 million. The the time of the sale Facebook was only a speck on the internet with a year-and-a-half under its belt, Facebook.com didn't even exist and was only known as TheFacebook.com, but after that first year MySpace recorded a net loss of $3.63 million at the end of the year. MySpace still dominated social networking during the late 2007 year, where Facebook's traffic didn't even compare.
MySpace began its long downhill decent in late 2009 when MySpace users found Facebook. As traffic at MySpace took a nosedive Facebook exploded in growth and quickly overtook MySpace. By even 2010 startup Twitter was even getting more traffic than the failing site.
Lately MySpace has taken the turn to become an entertainment destination for bands and filmmakers that have clung to the site. It's no doubt that MySpace has lost its ground in the social media space and the industry is quickly forgetting about it.
News Corp will be pushing for their $100 million asking point, but is the company even worth it anymore?