Nintendo Announces Wii U Launch Date & Pricing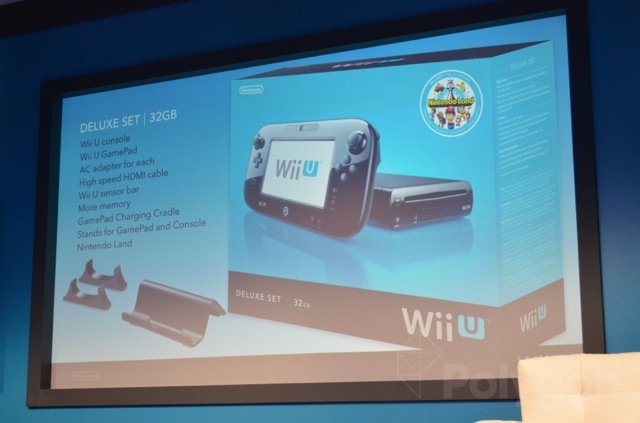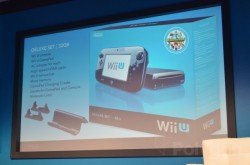 After a round robin announcement starting in Japan, Nintendo officially announces the Wii U pricing and launch date for the United States and Canada.
The Wii U console will launch in two models: a $299.99 "Basic" version which includes a white 8GB Wii U console as well as a game pad, AC adapters, sensor bar, and a HDMI cable; and a $349.99 Deluxe edition which comes with a black 32GB Wii U console, the  game pad, AC adapters, sensor bar, a HDMI cable, a charging cradle, and a free copy of Nintendoland and exclusive "Deluxe Digital Promotion" in which users can earn rebated for downloadable Wii U titles. Nintendo said that the console will launch November 18 in North America. Over in Europe, the basic version will vary based on region but it is suggested to be arround €299.99 for the basic version and the €349.99 and will launch November 30th.
For North American users, Nintendo has also announced a feature not discussed before. Nintendo announced that the Wii U will have the ability to watch not only Netflix streaming, but also Hulu Plus, Amazon Instant, and cable television on the device known as Wii TV. The device will also have TiVO functionality when connected with a TiVO device. Nintendo said that the Wii TV feature is a "personalized program guide" and demonstrated how users will be able to interact with their TV shows. This is quite similar to a service Ninteno unveiled to Japan as "Wii no ma" in which users in the viewable area are able to watch cartoons, brain-training quizzes, cookery, educational shows, and other programs produced for Nintendo exclusively (though the service ceased operation on April 30, 2012).