Nintendo Introduces 3DS at E3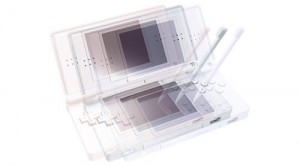 Today Nintendo just announced the latest handheld in the DS line, The 3DS.
It sports a 3.5 inch "3D" screen on top, and a lightly smaller restive touch screen below. On the back of the top screen are two cameras for taking 3d pictures, there is also a camera located above the top screen on the inside for self shots.

There are two more noticeable hardware changes are the Analog slider, which controls the camera angles. The demo says it feels similar to the PSP analog controller and a 3d slider. The 3d slider is located beside the 3d screen and controls how much 3d effect there is.
Reports say the 3d experience is similar to those 3D serial box prints, so if you try to look around something you loose the effect. Although the effect I'm sure is still compelling, the point of this type of 3D is there are no glasses to loose or require you to go cross eyed.
Smaller hardware changes are  accelerometer, gyroscope,  L and R buttons can now be used for taking pictures, three heat sensitive buttons below the touch screen (From Left to Right – Select, Home and Start) and will ship in two colors conveniently a red and black model and a blue and black.
Click here to see a floor demo from Engadget.